The Trinsic fishing tournament for May ended yesterday evening.
The fishers of the realm gathered at the Trinsic docks to hear Governor Thom
announce the winners and hand out the prizes..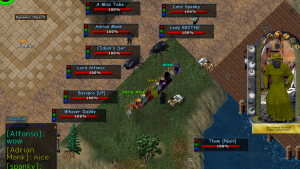 First Place went to A Miss Take for her 189 stone Holy Mackeral..    Congratulations A Miss Take!
Second Place went to Ezekial for his 183 stone fish..   Excellent Catch Ezekial!
Third Place went to Cidian's Servent with a 181 stone catch..  Nice work Cidian's Servent!
Prizes were awarded based on weight of fish and place won…
 1st place won 946,000 gold.
2nd place won 549,000 gold.
3rd place won 362,000 gold.
For a total of 1,856,000  in prize money rewarded..
Thanks go out again to Governor Thom and the city of Trinsic for hosting this popular event!
Everyone is looking forward to next months contest!