The Necromancer
Return to: Necromancy
Professions: The Necromancer
Introduction
You are tempted by the 'dark side'? The art of the Necromancer? The study of Necromancy draws people in with the promise of power and riches, while corrupting their souls in the process. Both mages and warriors are enticed by this wicked school of spellcraft for they can wield powerful weapons without disrupting their evil spells.
The Necromancer's spellbook is filled with 16 spells of sorcery so foreboding that it has been secreted away for generations. Use them alone or in conjunction with other powerful magic. Be aware though, that casting these spells has dire consequences on your karma. You are still inclined to this path? Then let me show you the way.
Starting Your Character
The default skills when selecting the 'necromancer' from the 'new character' template options are as follows: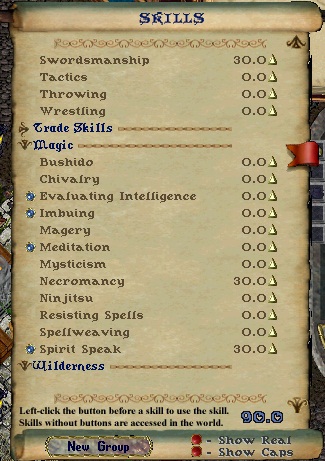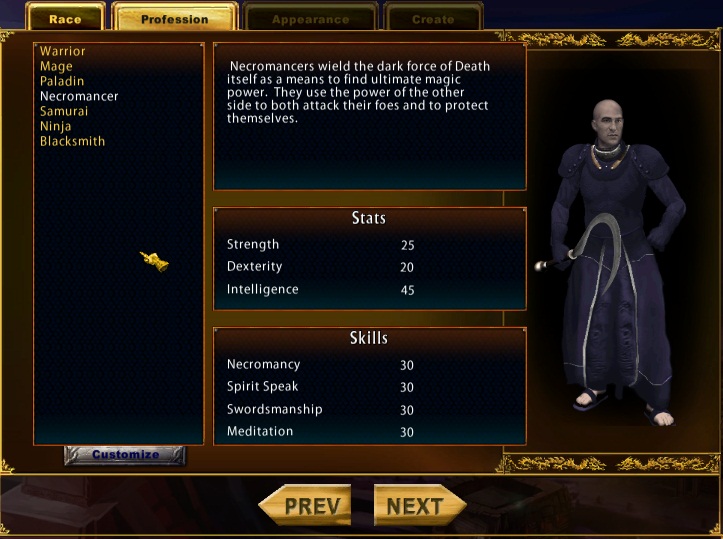 The enhanced client offers the option to adjust this template, the classic client does not. You can, of course, choose the advanced setting and select your own mix of starting skills. Your character, using the default template, arrives in game thus: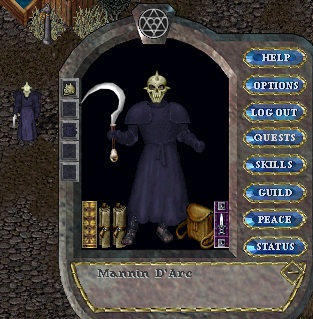 If using the enhanced client you will be given the opportunity to undertake the basic playguide tutorial. Following that, or if you have no need of that instruction, you will find yourself in New Haven. In your pack you will find a Necromancer spell book and a round bag containing 50 of each of the reagents required to cast those spells. Proceed North from New Haven town square, taking the turning on the East to reach the Necromancy Hall.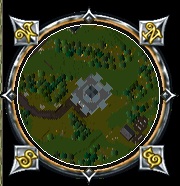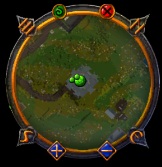 By this point you need to have reached a decision on the kind of character you wish to be. Below are some suggestions from players posting on the Stratics UO Spellcaster Forum
Template Ideas
Spellcaster Necromancer
With mulitple mana-using skills in these templates, methods of recharging and conserving mana are essential. Suits should be built with properties such as Mana Regeneration, Mana Increase and Lower Mana Cost in mind.
Necromancer/Mage
Necromancer/Spellweaver
Necromancer/Bard

120 Necromancy
120 Spirit Speak
120 Magery
120 Med
120 Eval
120 Resist

120 Necromancy
120 Spirit Speak
120 Magery
120 Med
120 Eval
120 Spellweaving

100 Necromancy
110 Spirit Speak
110 Magery
100 Med
100 Eval
90 Peace
90 Music
Warrior Necromancer
See also the popular hybrid template known as the Sampire
Necromancer/warrior
Necromancer/Paladin
Necromancer/Samurai

100 Necromancy
100 Spirit Speak
100 Weapon Skill
100 Tactics
100 Healing
100 Anatomy
100 Focus

120 Necromancy
120 Spirit Speak
120 Weapon Skill
120 Tactics
120 Chivalry
100 Resist Spells, Parry or Focus

100 Necromancy
120 Bushido
120 Weapon Skill
120 Parry
100 Tactics
100 Resist Spells
60 Chivalry
A debatable inclusion under the 'Necromancer' heading is the template known as the 'Whammy'. In this template Necromancy takes a more minor role. There are a number of variations on this template, here is just one example:
120 Weapon Skill
120 Bushido
120 Parry
100 Tactics
100 Resist Spells
100 Spirit Speak
60 Necromancy
Training Your Skills
Having reached a decision, the NPCs in the Necromancy Hall will be glad to train several of your skills a little higher, up to 40, for a modest fee. At the very least I would recommend that you purchase training in Necromancy and Spirit Speak.
Spirit Speak is a support skill for Necromancy, enhancing many of the spells plus providing a much needed method of healing. More about the skill can be found here. Single click on the NPC to obtain the menu: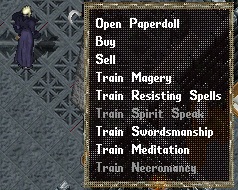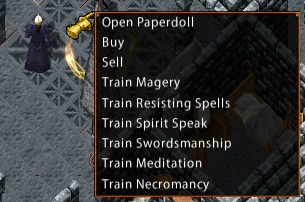 Having purchased the skills you require you may now find it adviseable to undertake the Accelerated Gain quests relating to the skills you have chosen. You may only undertake one accelerated gain quest at a time, so choose wisely which you do first. The reward for the necromancer's quest is a full necromancy spell book, however the reward from the medium's spirit speak quest is a bag of necromancy reagents. It may, therefore, be useful to undertake the spirit speak quest first, thereby gaining some of the resources you will need to undertake the necromancer's quest. Quests for the other skills in your template can be found elsewhere in the town. Consult the guide linked above to ascertain who you must talk to and where to find them.
By the time you are ready to leave New Haven you will be equiped to survive in the forests of Sosaria and can continue your training. Remember that creatures with positive karma, while they ignore more virtuous travellers, will attack those with negative karma such as you have now become.
Good luck, traveller, on your murky path.
Last modified: February 11, 2013