Christmas Market.
It was a lovely evening for a Christmas Market inside the walls of the Britain castle.
Anselm and his friends decorated the area very nice with the help of Borbarad.
I was a bit early so i placed myself at the bar. Anselm gave me a pitcher and a glass of water.
Slowly more visitors of the market walked by and placed them all around the bar.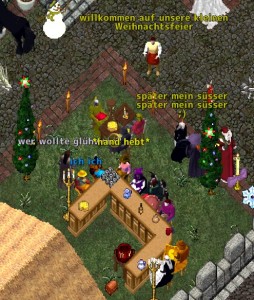 After a bit of chatting Anselm welcomed us all at the Xmas Market.
We where expecting Santa too later that evening.
But first it was time for a little game.
Three teams of two people where needed to move a heavy bag from one side to the other.
Halfway the course the bag was passed on to the team player to move the bag towards the end.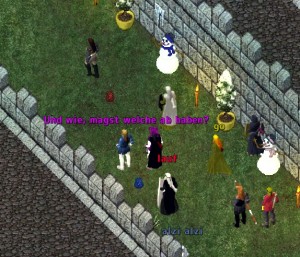 Spectators cheered for the players and tried to encourage everyone to do there best.
The players and the crowd had a lot of fun.
After some exciting battles it was time for some more glühwein at the bar.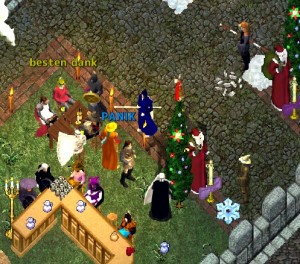 After enough wine Anselm had another little game in mine.
Four players would get each a dye tub with a different color.
It was the idea to dye as many cloth in your own color as you can until Anselm yelled stop.
MJ the bard seemed to be extremely good and fast in dye the cloth.
He seemed like a vortex bunny with paint!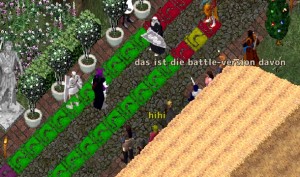 After the game Anselm had a bit of bad news.
It seemed that Santa ran into a bit of sleigh trouble and could not make it today.
But the little presents that Santa wanted to give to us would still be given to the visitors of the Christmas market.
But before Anselm would give a gift to the visitors they had to tell a little poem or a song to him like they would do to Santa.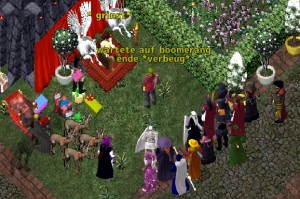 Some of the poems and songs where very interesting!
It was getting late and it was time to get back home.
I thank Anselm and everyone else who worked on this lovely evening.

New Frarc, Drachenfels News reporter.