and
Drachenfels
Presents
The Week-end Madness
Edition Number: XXV
We had a wide variety of events this week-end again on our beloved world!
On Friday we tried to break our shard record of 55 waves at the voidpool.
We did our best and came very close!

54 waves! Maybe next time we will break our record!
On Saturday we traveled to Dungeon Despise to fight with the Lords.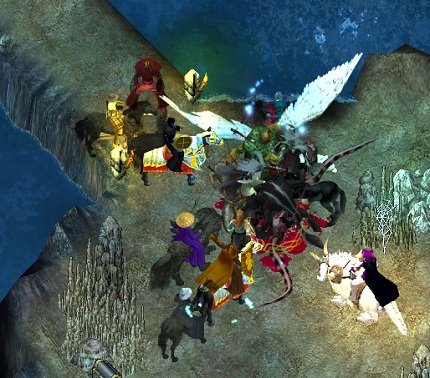 It was good to learn several people the mechanics of this revamped dungeon.
Sunday the governors and citizens had a meeting with the King.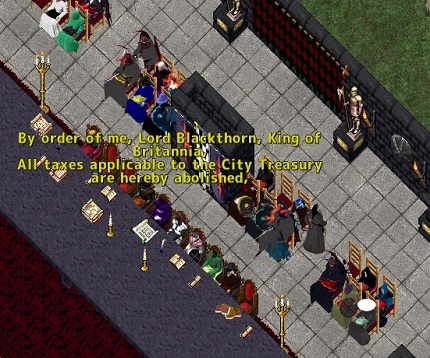 Later that evening Professor Grimm gave us the bad news that Elesil Daelwon had died!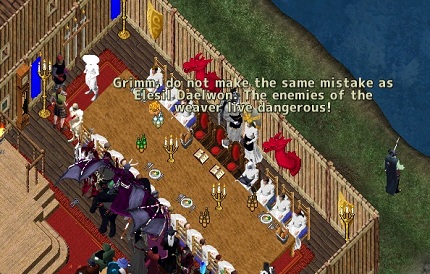 It seems that these followers of Zalindera are far more dangerous as we thought!
We picked up a few more rumors :
King Blackthorn has arrested the most powerful governors in their journey to the audience last night. Therefore, three chairs of governors remained empty.
The Governor of Skara Brae, Lady Coco Zamis, has tried in the audience to raise the king against the Followers of Zalindera.
King Blackthorn plays down the Zalindera matter, because he himself is a secret supporter of the Weaver.
The Governor of Trinsic, Lady Ta'ira Tal, will create a design for a Trinsic city gate and will send it to the king. Rumors tell the image will show a big spider.
More than 20 followers of Zalindera have held a public meeting yesterday evening at the Councilor Hall in Britain. Many visitors of the royal audience listened to the Followers, too.
Jigsaw and Alrik Ploetzbogen have whispered several times with other followers of the Weaver during the meeting in the Councilor Hall, surreptitiously showing on Governor Coco Zamis.
Professor Grimm last night investigated the new Zalindera altars in New Magincia and Yew. But the Professor has no idea what he can do against the altars. He therefore sent the heroes to the completely pointless search for dragon scales in order to have more time to think about what he could do.
 The Zalindera altar in New Magincia draws its strength from the blood of the Weaver, the altar in Yew from the skull of a dead man. Both altars are guarded by spiders, scorpions, orcs and ogres.