Umbra cannot be described as "normal" at the best of times; however, during this month of October it is even stranger than before.  Death Taker and his Death Mare, who is pulling a wagon, suddenly appeared near the city moongate.  This Death Taker claims to have "the "kiss" of Death" and has a list of citizens of Baja that he appears ready to take on their final journey in life.  It should be noted that EM Crysania's name has been scratch off of the list, as "She's evil enough."  He also speaks of Mesanna to whom this Death Taker bows down to in respect.  *shudders*  Also suddenly appearing is Skeleton Jack sitting at a harpsichord accompanied by the Ghost of Halloween Past, who proclaims that Skeleton Jack is the King of the Pumpkin Patch.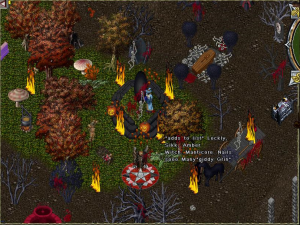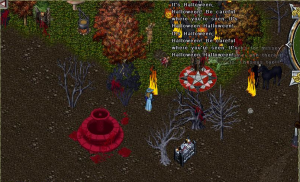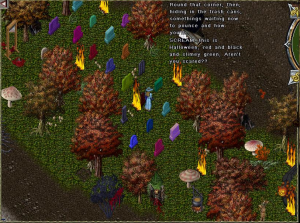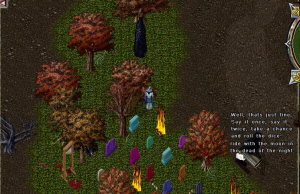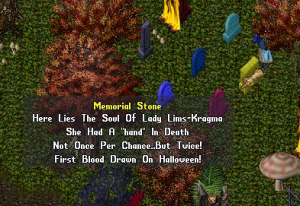 The Story Teller also suddenly appeared at the beginning of the month and has been telling us stories out of her Book of Tales, which have the ability to come true and that we can determine the ending.  The first week the story was about "things that go bump in the night" and we ended up at the tomb north of Umbra outside of the city.  The next week's story was about spiders and lead us to a clearing almost directly north of the west city gate of Umbra.  There was a mysterious hole in the ground which took us to an underground cave system.  We defeated the spiders but were unable to use the ladder at the top northwest portion of the system.  The third week it was about snakes and while we used the same mysterious hole, it took us to an elaborate system of tunnels.  The person or creature behind this must be very powerful.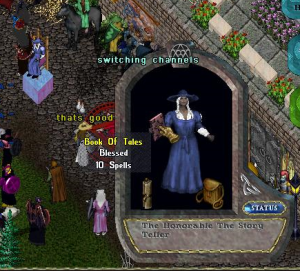 This week's story was about a Horseman.  This Horseman has been seen about Britannia, including briefly in Vesper at Governor Daena Targeryen's Halloween Costume Contest the night before.  We were directed to follow the flaming horseshoe prints to locate and stop the ride of the Horseman.  This time they lead us east past the tomb north of Umbra almost to the entrance of Dungeon Doom.  There we encountered summoned spirits named after the same citizens whose names appear on the Death Taker's list.  After we killed them, we engaged and defeated the Horseman.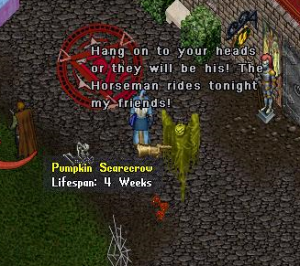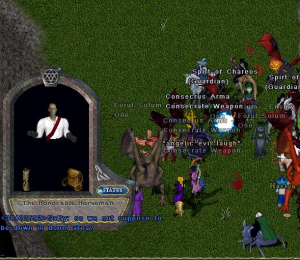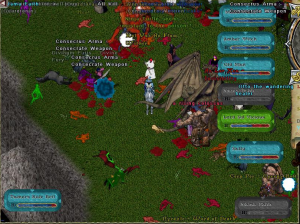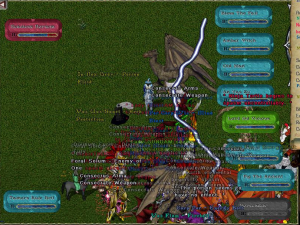 Upon returning to West Britain Bank, the Story Teller told us of the coming of the Boogey Man, who also has been seen about Britannia recently.  We are to meet up again next Thursday, October 31, 2013 at 7 PM PST/10 PM EST for an All Hallow's Eve Party in Umbra.  Be warned to come prepared as you never know if (when) the Boogey Man will make an appearance at the party.
(EM Crysania did an awesome job of decorating for Halloween again.)