Sadness.
EM Borbarad wanted to speak with us in the counselors hall.
He needed to talk to us about some sad news he had received.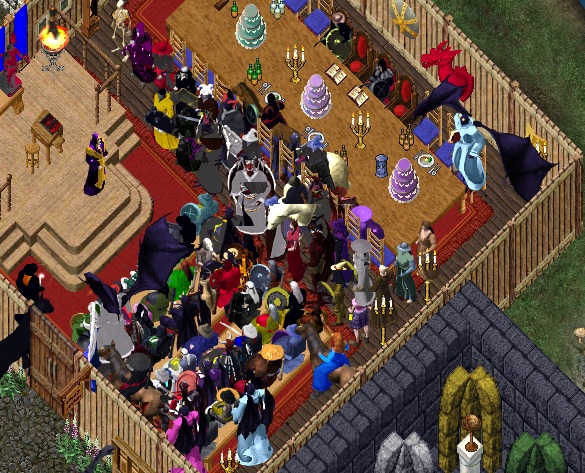 Many people came to hear what Borbarad had to tell us.
He first had to tell us that the event with Grimm was postponed.
Mesanna been ill had could not help him to set things up for him for the event.
He was very sorry about it but we understand that these things can happen.
This event will be delayed until next Saturday.

Then he had to tell us the sad news.
He was informed that a few days ago we lost a member of our community.
Sir Red is no longer with us in our world.
In name of the Drachenfels community i give my condolences to his family and friends.
Several people had contacted Borbarad if it would be possible to have a memorial for Sir Red.
We all agreed that it was the right thing to do for a last honor to Sir Red in Sosaria.
After the meeting with Borbarad several people left to discuss the details on this memorial.
The memorial will be held next Wednesday after the coronation of Lord Blackthorn.

The Coronation will be held in the new castle of Lord Blackthorn.
Everyone is invited to witness this milestone in Sosaria.
More details on the time of the coronation will follow soon.
Me personally can not go too this event, my friends and family are free to do what they please.
But my personal believes and feelings will not accept Lord Blackthorn as the new king.
I only believe and follow the Virtues and i will never accept the Lord of Chaos as ruler of this world.
I can not trust him!
I will prepare myself for the memorial of Sir Red when this coronation takes place.
May the Virtues protect us all!
New Frarc, Drachenfels News reporter.