Grand Opening!
I was invited to the grand opening of the Blackrock Casino.
I could not let something like this go pass by without to have a look myself to a opening of establishment that not happens often.
There would be runes around the bank to go to the casino but i decided to go to it trough the teleporters hub in New Magincia.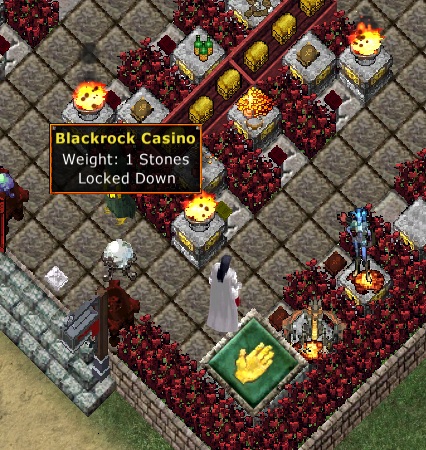 The teleporter took me right in to the Casino.
There i was welcomed by the owners and the employees of the establishment.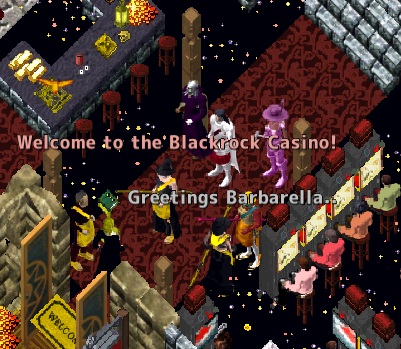 On this first night we all had a free chance on the many slot machines.
The slot machines are available for everyone 24 hours a day.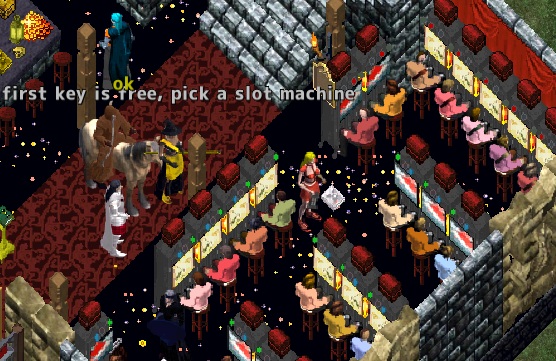 I saw several players at a table where they would play a little with the dices.
But before i could gamble ,i changed some gold into smaller checks for the games.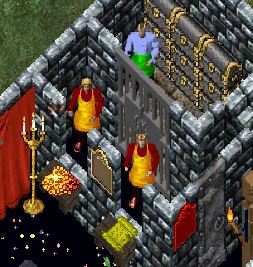 There where several games to try but i decided ,like many other gamblers,to play some Blackjack.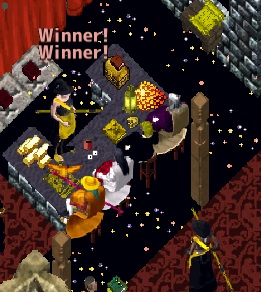 I did not do too bad on the first attempts but keeping gambling got high risks.
Some of us lost and some of us won some gold but i guess that's how it all works in a casino.
I tried my luck on a new table, maybe i would win a little more there.
It was clear that people where having a really good time.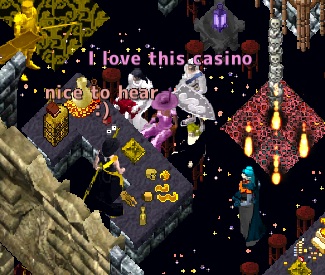 I noticed a special High Roller Club for the really lucky gamblers that play very often.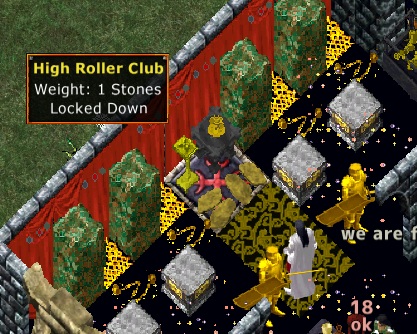 Later on the evening there would be a raffle.
You could buy some tickets and get some nice prices.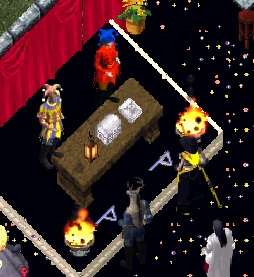 Raffle prizes and winners:
1) Tangle – DetoX Inc (36)
2) Golden Cristallized Essence – Valen (70)
3) Armor of Fortune – Robina (77)
4) Khaldun Light – TanAge (30)
5) Bedroll Wrong – TanAge (84)
6) Ethy Horse – Tanage (74)
7) 25 Stat Scroll – Valen (27)
8)  Small Rares – Nicodemus (32)
9) Bless Deed – Valen (42)
10) Flaming Head Deed – Nature (56)
11) 115 Magery PS – Aulbrey Loveless (51)
12) Oak Leaf Shroud – TanAge (91)
13) Darkwood Armor – FireKitten (6)
14) Virtue Armor – TanAge (3)
15) 2 Furs – TanAge (87)
I was getting tired but i could not resist to have a look at the roof.
Its a very nice big chessboard.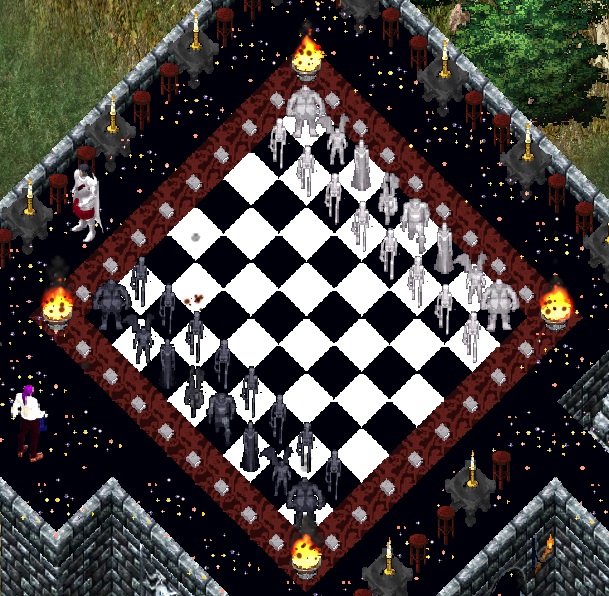 This first opening evening looks like a big success.
And i was told some big prices where won on the slot machines too.
The following amounts was won on the slot machines: 2,5m ,2*500k + 100k.
I heard that the special evenings could be hold in the casino every two weeks, maybe more often depending on the success.
I know i will be visit this place again and i can only recommend everyone to try it too!
New Frarc, Drachenfels News reporter.