On Saturday, January 4, 2014, the December Governor's Meeting was held at Blackthorn's Castle.
King Blackthorn started the meeting with trouble in the city of Serpent's Hold.  It appears that pirates have made an appearance there and are causing trouble.  There is concern that the pirates are intending to use Serpent's Hold as a base of operations.  Governors were urged to investigate as the situation would be discussed at the next Governor's Meeting in a week's time.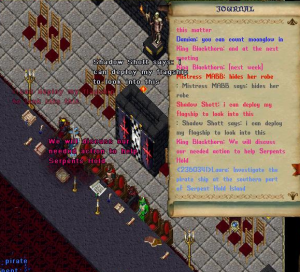 The Governors talked about their concerns and status of their cities.  The King welcomed the only new Governor to the council, Damian (RLV), Governor of Moonglow.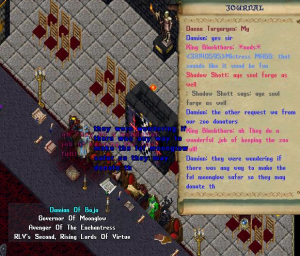 After the Governors had spoken, King Blackthorn let the council know that two cities did not have governors – Trinsic and Yew.  To become Governor of a city, you need to be a citizen, must be least adored, and submit a petition to the King via his secretary, EM Crysania.  One person has expressed interest in becoming Governor of Yew.
After the meeting was adorned, several citizens went to Serpent's Hold to check out the situation there.  It was as the King described – a pirate's ship was parked along the shore directly south of the stables and it was defended by pirates.