New Fishing Council of Britannia (FCB) Website!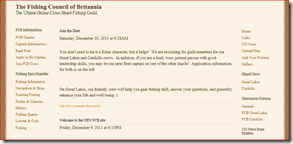 Ahoy landlubbers and seafarers one and all!  The cross-shard fishing guild, FCB, is proud to announce we have redesigned our website.  We still be at www.thefcb.com but we have a whole new look and feel. You can post comments to the articles.  We have tried to make it easier to access content about fishing, the seas, pirates, etc.  As such, we try to find you the best resources with links to Stratics articles, UO Guide, etc.–plus our own content of course.  You can see the originals of all those shipwreck paintings.  And we are always looking for more crew to join our Great Lakes and Catskills fleets.  We be looking for able-bodied seafarers to captain our fleets on other shards as well. 
A special thanks to Stratics for hosting our shard guild forums (links on the FCB main page.  We will be adding more content soon. 
Enjoy!  –Fleet Captain Gem