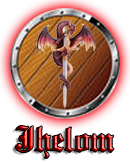 Greetings Players of Britannia,
I, the Governor of Jhelom, would like to announce that the 'Mike & Ike Wrestling Tournament' will be held next Thursday, the 17th of October.
Location: Jhelom Fighting Pits
Prize: ??
DESCRIPTION of the event:
The competing players will go in their assigned compartments in the pits when the event begins. (Mikes on the East – Ike's on the West) I will have a master list of who will be matched up with who, based on the player templates. Once the two enter the match, there is no turning back. The winner will move on and the looser will be asked to join the audience. NEWLY MADE TOONS ONLY – WITH NEW PLAYER GEAR/WEAPONS!!
There will be two (2) temporary guilds that will be made. People who enter must be willing to be guilded on their new toon. Once the winner is proclaimed, I will then deliver the prize to him/her and that will conclude that event.
All entries will have to be private messaged to me on this forum. Entries will be closed on Monday, the 14th of October. I encourage every city to participate in this event, it is a pre set-up for my Big event in November. Here is what needs to be sent to me via PM:
Main Character Name On Atlantic
ICQ Number If You Have One
Town you represent (If any)
Your Newly Made Toons Name (Mike or Ike)
Requirements and Rules:
No Cheating – If you are cheating, you will automatically be disqualified from the event.
Must follow instructions when given. To many people to keep track of and we don't need and confusion.
Be willing to be temporarily guilded by one of our two guilds.
No Harassing other players – Automatic disqualification and a page to the GM
AND HAVE FUN!!
(All data can change at random. Will post if this happens. If there are any questions, feel free to contact me)