Ilshenar Gypsy Camps
Return to: Ilshenar Guide
Gypsy Camps; by FatherGanja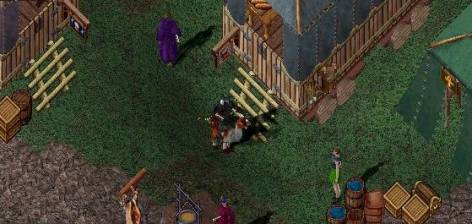 Sadly, Ilshenar is mostly devoid of friendly human life. Normally all you will find waiting for you in the new lands are brigands, waiting to take your very life from you.
However, there are friendly faces out there, in the form of the gypsies. Traveling like nomads, these people trek over the lands, looking for new opportunities for fortune, and a better life. Ilshenar is far from a safe land, as there are monsters of all size and description, covering the lands and making travel hard for the gypsy. As a result, some of them gave up the nomadic lifestyle, in favor of setting up a more permanent home in the safety of the nearby mountains.
In these gypsy camps, you are likely to find a banker, a provisioner, or even a blacksmith. As it is their nature, the gypsy never stays in one place for too long, and they are searching for new routes of travel all the time. This is the currently known travel route of the gypsy caravan.
| | | |
| --- | --- | --- |
| South East of Honor Moongate | South towards Mistas, just east of the mountain | Further east, over the bridge |
| Pass by Mistas and Justice Gate to the dock | Continue East over the mountain top to Healer Grove | Through Lakeshire and follow the Lake shore |
| Just past Twin Oaks Tavern | follow the road over the bridge, across the beach to 2nd bridge (Ancient Citadel) | Turn north, pass the permanent camp (see below) to the top of the Demon's valley |
| At the mouth of the Eastern end of the Pass of Karnaugh | | |
However, if you're looking for a more stable area to rest yourselves after a bit of adventuring, you can find more permanent gypsy camps at these locations. Unfortunately, there is no telling how long they will be able to keep themselves safe from nearby creature population.
| | |
| --- | --- |
| South of Compassion gate, by the entrance to Central Ilshenar | East of Compassion towards the Ancient Wyrm |
| In the desert near Ancient Citadel | East in the desert |
Last modified: June 26, 2014