Greetings and Happy New Year …..
It is that time of year again when I post my annual year end letter and what a year it has been !
There were a lot of things that happened in 2013 that made us want to escape into the realm, from a marathon bombing to the government shutdown. Crazy politics and spy scandals were just a tip of the iceberg with abductions, shootings, deadly weather, meteors exploding over Russia and aggressive wild fires. I live in southern California and know all too well about wildfires. For several days my condo, car and garden were covered with ash this past summer. In the evenings I could see the fire from my kitchen window which was rather scary. Thank goodness that is behind us with twerking and blurred lines right along with them.
There were a few lets downs also in the realm for me in 2013 and sadly the top of that short list is that I was not able to attend the MOA annual Christmas/Holiday event. MOA is such a strong part of the Great Lakes community and has been since I can remember going back to the days of Impy. 2012 was the first year I could not attend the event as I was taking a class on Thursday evenings and now I am teaching a class on Thursday evenings. No doubt Pratt and his gang did a grand job decking the halls and entertaining the patrons. Of course Santa always plays a big part in the MOA holiday bash. Lady Lava has even helped Santa in the past hand out presents.
Class was not the only thing that kept me away from the realm more than usual. Vivian is the name of the culprit. She is my new dog which I adopted in March as a puppy. Above is the photograph I took of her in December and it was my holiday card this year. As all new puppy owners know time, much time needs to be given to the training of a new dog. By summers end I was able to spend more time in the realm which was great as Halloween was right around the corner.
Training a new skill is something I had not done in years but with a fresh return I decided to develop begging in time for Halloween which I did with the help of many of Great Lakes finest. Thank you again for all that helped and those that gave me pinkies. I spent so many hours trick or treating my hands went tingly. My drive was the amazing art that was created for the heads on a spike.  For me they were the most exciting visual thing in years and looked perfect in my dungeon. Sadly as we all know for some reason the art was changed to a lesser unexciting version. I was somewhat upset mainly because of all the hours I put into collecting them. As we all know we cannot control everything in the realm nor the real world so it was best to move on which I did.
The city invasions started and the heads on a spike were history. It was so great to see so many people doing the invasions and the shard had a feel of vibrance. General chat was ablaze and everyone was helping everyone with very little bickering or drama. I logged on every day of the invasions and fought for hours, many hours long into the night. When the new dungeon appeared it was a treat to see that we can still invade on a smaller scale in the same fashion.
No year end letter can be written without stating how I appreciate all my friends on Great Lakes, some I know in real life and most I do not.  Friends and community is what make this game what it is. Also for many of us the two amazing EMs we have add to the positive experience. May you all have a healthy new year and find the things that make you smile the most each day.
Fondly, Lady Lava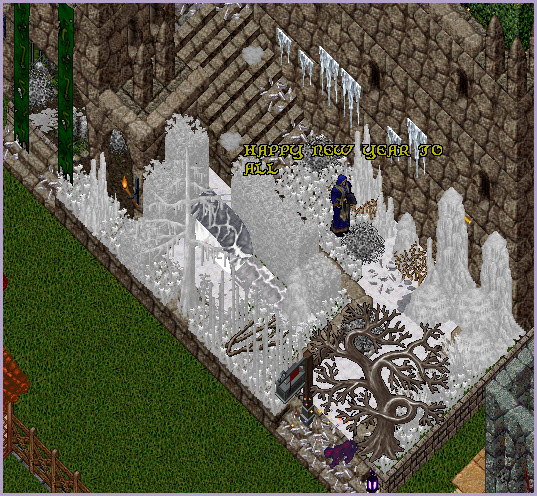 * Lady Lava waves from her Luna Manse *