An Icy Investigation
Jhelom
January 21st, 2015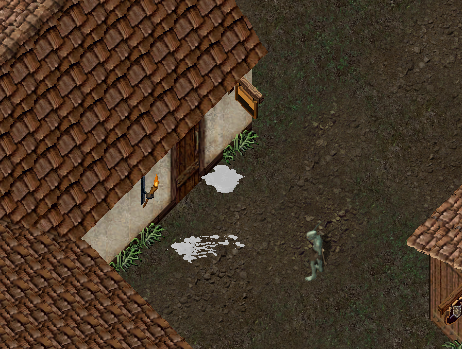 Strange things were afoot in Jhelom. Governor Scabby had found a path of icy patches leading from the Hand of Death Guild Hall in South/East Jhelom that led to a mysterious moongate. Scabby called in for reinforcement in case of danger. Many adventurers showed up including Lt. Governor of Jhelom Ozog, Governor Ivy of Vesper, Governor Vic II of Minoc, Governor Murdock of Britain, Governor Lauren of Moonglow,  Ashlyn of Cove, Nanoc, Red Snapper, Giggles, Nubby, OC,  Sparrow and others. Governor Pheonix could not make it but sent her Alchemist, Walt, to assist.
The group noticed  that Jhelom's temperature, which was normally hot and humid, seemed to be cooling off and the ice did not appear to be melting. Walt analyzed the ice to determine that it was made up of some sort of magical essence and had an oily substance to it. They followed the trail to the mysterious moongate which had ice seeping out of the bottom of it. There was a strange force field protecting the gate and not letting anyone through it. Walt the Alchemist warned everyone to stand back, if anyone were to get some of the icy substance on their skin, they would become delirious and would eventually become paralyzed.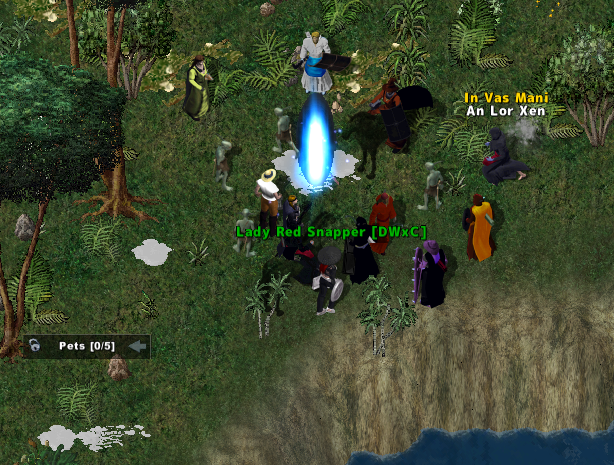 The group weighed their options and chose to go in search of clues to the origin of the mysterious moongate and the ice. They quickly gated to Dagger Island, locally referred to as Ice Island. Walt took some samples, while the ice was similar to that of Jhelom, it lacked the magical essence and oily texture. Governor Scabby noted that he was getting a strange feeling that they were being watched, and Walt informed the group that he had come across some readings that suggested that the ice may have originated in Tokuno.
The group quickly departed and traveled to Winter Spur on Isamu-Jima Island in Tokuno. As soon as they arrived to a location right outside of Winter Spur, they were attacked by Ronins which the group quickly dispatched. They traveled into Winter Spur and were immediately attacked by Ice and Snow Elementals. A large battle ensued and eventually the Lady of the Snow attacked. Things were rough but the group prevailed and Walt was able to get his samples.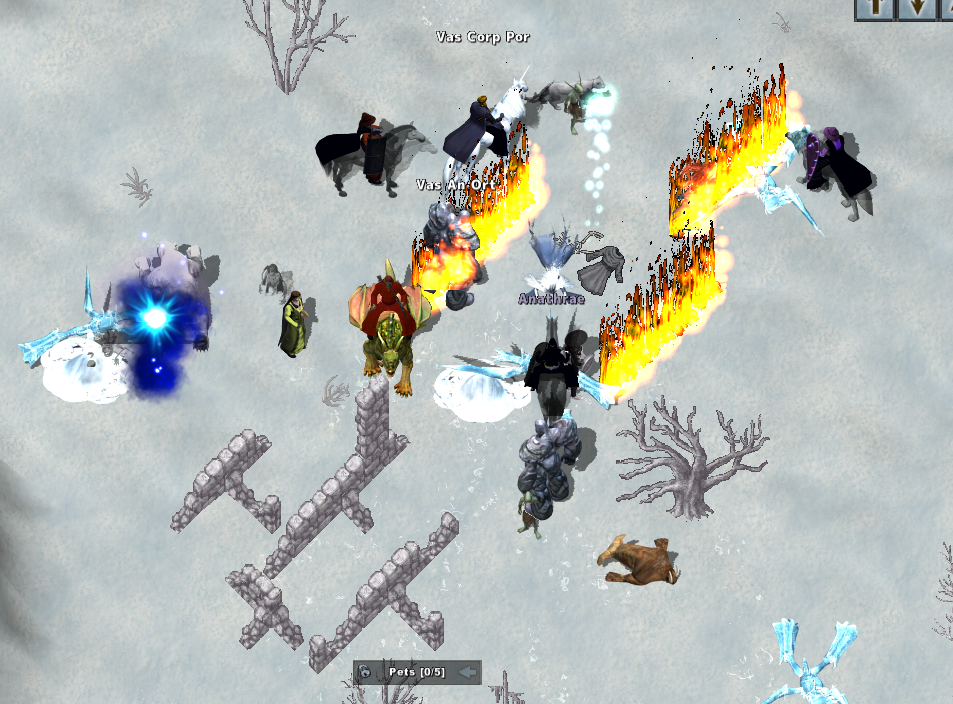 Walt inadvertently touched some ice identical to that near the moongate and quickly became delirious. He left the safety of the group and wandered out of Winter Spur and was quickly attacked by Rune Beetles and Evil Mages. A rescue party was formed and Walt was saved from danger. Exhausted, the adventurers left and regrouped in PaxOku to review the finding and implications. They decided to get some rest and plan a visit to Kos Heb West in The Lost Lands and into Ice Dungeon to see if they can find any answers there.