House of Commons Report
                                                                                        10/9/11
                                                                                    Britain Plains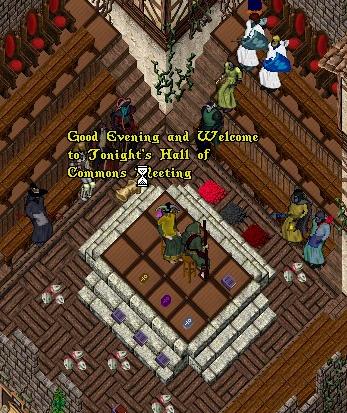 Players made the trek to the plains of Sosaria's capital city of Britain this Sunday's eve to meet with shard EM's Dudley and Drosselmeyer. Announcements led the evenings event off with Dudley updating us on this weeks events about the realm. Two events highlight the week as on Fri. Oct. 14th, 2011 at 8pm est gates will apear at the Luna Bank leading to the "Hidden Identities" event. Along with that the following evening at 9pm est gates from Luna will lead one to the "Where No Olmec Would Go" event that according to the moderators themselves is a highly anticipated event in which they expect a great turnout! Of couse on this coming Sunday's eve they will once again host the realm to answer thy queries about events and scenarios etc. at 9pm EST. Once the weeks recap was complete, Dudley went on to commend the player base for thier efforts in the recent Healer's guild admission event that took place last week. The EM's then went on to explain upcoming happenings with this quest. The following notatiuons were made regarding the next upcoming healer event:
 – The next event will take place on Oct 21st , 2011 @ 8pm est during the next scheduled outing for the rp Royal Guard
 
 – 3 players from each town or guild seeking admission will need be present and dressed on the appropriate healer's guild garb to qualify for consideration of completion of this part two of the quest as they play "Field Medic" to the the Guard
 – "Double Dipping" or dual clienting to both play a royal guardsmen and healer was highly discourage!
 – The event is considered as "Open enrollment" throughout the scenario as one may still get involved. They may catch up with the current status of this event herein.
 
 – Submissions or suggestions for the actual construction of a healers area within the player towns of the realm are welcome however the evil one herself Lady Mesanna will have the final say on design and location of each shrine placed!
       After some Q&A regarding various areas in the realm including the blocked off area around the Humility Gate, an "Adda Boys" for the great restoration event last week as well as reminding us that the ship shall remain in Jhelom for those who missed the event to pay a visit the night was soon wrapped up as in a flash of light and fury the EM's went poof and quickly as they arrived reminding us all to "Stay Tooned!"