Players gathered inside the Hall of Commons last eve for the weekly meeting with the Chesapeake EM tandem of Dudley and Drosselmeyer. We were treated to a solo Dudley with Dross no where in sight this week. Dudley led off with announcements concerning the upcoming event dates listed below:
 January 16th @ 7pm ET – Sosarian Solstice Fair
January 17th through February 12th – Dudley is on Vacation. Direct all inquiries to [email protected]
January 22nd @ 9pm ET – Hall of Commons Meeting @ the Hall of Commons
January 26th @ 8pm ET – Twisted Turns and Plundered Paths, 8pm ET
This is the huge static event with multiple decision paths that we talked about at the last HoC. Stay toon'd for more information!
Sunday, January 29th @ 7pm ET – Tavern Night at the Keg & Anchor, Trinsic
Sunday, January 29th @ 9pm ET – Hall of Commons Meeting at the Hall of Commons
     Also noted, we should be on the lookout for upcoming fiction concerning the commencement of the next Live Arc in the herald soon. Once into Febuary we will also see more town business conducted within the player towns of the shard.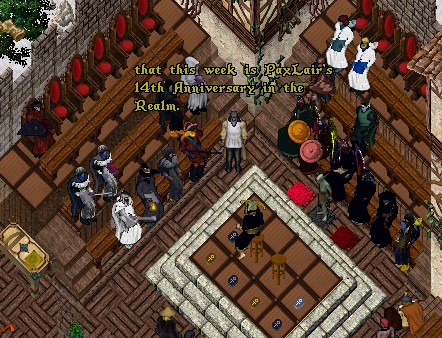 With the floor now open Winfield of Paxlair announced the Paxlair Statehoods 14th Anniversary Festivities beginning Sunday with a Charybdis hunt sponsored by Pheonix of Dragons Watch. Chie of GS inquired about the completion of thier newly formed player cities town banner near fel yew. Dudley also announced that Orin had won a fishing contest catching a 67 stone Winter Dragon Fish and that from now until the 15th of Febuary the largest fish of this categories were to be sought out for sport:
 – Dungeon Pike
 – Giant Samurai Fish
 – Lantern Fish
 – Seeker Fish
 -Spring Dungeon Fish
    Hearing no further inquiries the floor was closed as we bid farewell to EM Dudley until Febuary 13th, 2012. Have a good vacation!