~ . ~
Having Fun With The King's Collection
~ . ~

Last week I was at the lovely home owned by Harion which is located on one of the beautiful Tokuno Islands. Harion's home is a meeting spot for many of the people of Great Lakes to meet before and after group hunts. I could not help but notice an item on the roof of this structure that looked like a grey plant. Plants in game and in real life are often a weakness of mine. On closer inspection I found out it was a sponge, a cactus sponge.
.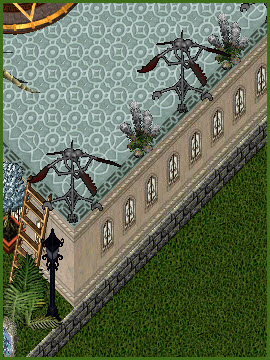 .
There was no doubt in my mind I had to have one of these. Harion generously gave me one and it was in deed form. Quickly I returned to my Luna Manse to place this new treasure and to my shock I had to have The King's Collection Theme Pack to place it.  The last thing I need after playing UO for so many years is more items, though there is always room for a special one. Well, I went along and purchased it and it gave me such inspiration. I was so excited about the new items that I redid sections of my house which I had not done in several years. This theme pack includes,
• 3 new lamps 
• 2 new Ornate Tables 
• 1 new bookcase 
• 1 new Bell 
• 4 types of sponges – the Barrel sponge will give you 5 random potions a day 
• 5 new pictures – the Burning Man picture will give a .1 sot a week and the Sailing Ship will give 50 Power Charges a week 
• 2 new tapestries 
• 2 new poster beds 
And  if that were not enough there are also a bunch of new craftables.  Below are a few images of how I used these new items in my house.
.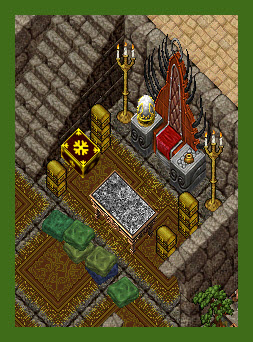 My living/greeting room with the Kings Collection box and one of the new tables
.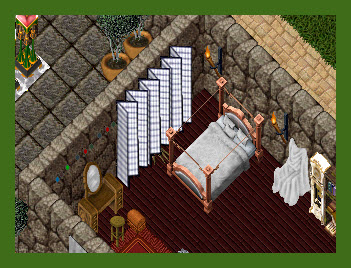 My bedroom using one of the two new beds
.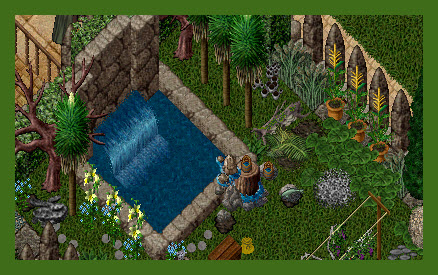 My rooftop garden showcasing some of the new sponges. The Fluffy sponge is my favorite.
.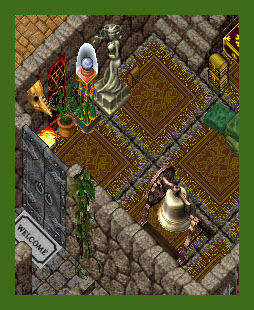 The Monastery Bell is my favorite from this collection and the sound is grand when you ring it
.
I would love to see what others have done with items from this theme pack so please send in screenshots or drop a marked rune in my Luna mailbox. My house is within the city walls and easy to find.