Players gathered for the "Hall of Commons" meeting hosted by EM Drosselmeyer on Tuesdays eve just outside the city of Britain. Herein Drosselmeyer began the night by going over the months schedule followed by announcements.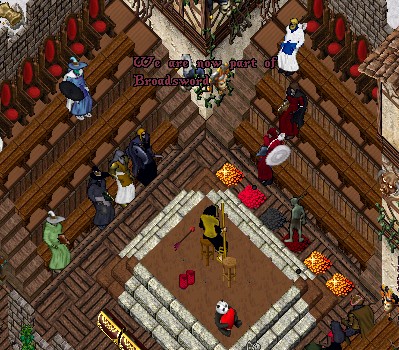 Proceeding along, it was noted that City Guards were all up and running inside the various election cities in the realm. Player cities were also granted the opportunity to place a city guard if they wish by submitting a completed "uniform" to the mailbox of the Hall of Commons. A bag with the uniform and a book detailing its location was suggested.
  Also noted were long overdue municipal works in the town belonging to the Action guild and the need for repairs of both the city banner and healers hut in Silvervale. The Royal Surveyor will be notified.
  Briefly discussed with great hope and elation was the recently announced partnership between Mythic, EA, and Broadsword furthering the longevity of this game we all call home. All were assured both Mesanna and the EM program would be continuing here on Chesapeake!
  A lengthy Q&A then occurred regarding events and story arc's dating back to the days of Poseidon's Fury and beyond up to the recent events held last week. All questions regarding storylines were answered by EM Drosselemeyer in the attempts to get everyone up to date on the on goings here on Chesapeake. A library of event lore was also notably suggested by the crowd in attendance.
  Ushering us out to the realm, EM Drosselmeyer bid us adue for the evening until tonights Governor's council meeting at Castle Blackthorn at 9pm est. Stay Tuned!