Guardians Gate Anniversary
                                                      12/10/11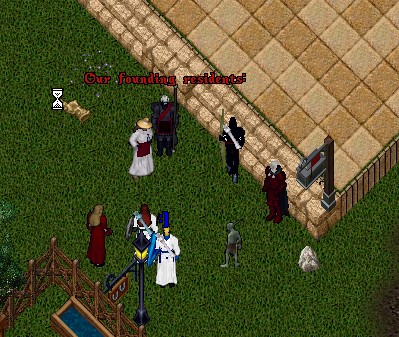 Guardians Gate celebrated their 5 year anniversary with a full day of activity. After a brief opening ceremony the fish of the day were announced. As was planned there was a one million gold bounty placed on the largest Blue Marlin that was caught during the day. In an effort to spice up the fishing competition Wat The Tyler from USN announced that he would provide one million gold to whomever caught the largest black marlin. He was quickly seconded by Mirt from OLT and Delta Butch of RBG bringing the total purse up to three million gold. Also at this time it was announced that a shadow iron elemental would be available all day for anyone to train their pets on.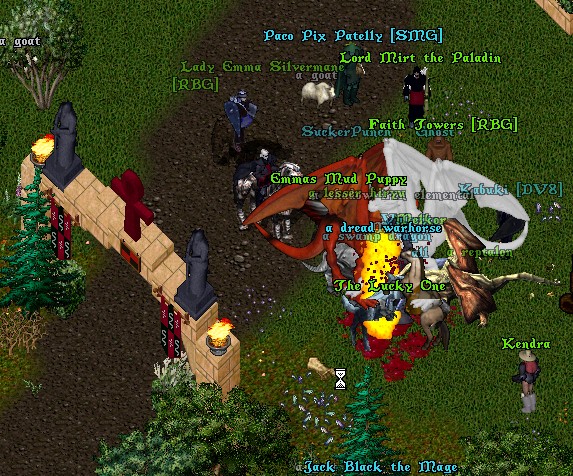 After the announcements the first event of the day started off at the famous Ottersrun Tap House where a double elimination dart contest was held. Ironically enough both Nanoc of DWxC and Mirt of the OLT were beaten by their own significant other as Phoenix DWxC and Emma Silvermane of RBG won out over their men. Both Nanoc and Mirt claimed that they followed a chivalrous course and allowed their ladies to take the victory. In the end though it was members of RBG that took all the top spots. Daria Blackmoore took 3 place with Marcus Aurelius taking second. Man Overboard took the top spot.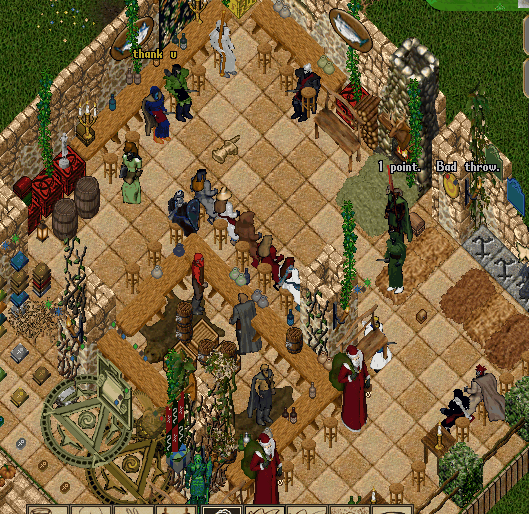 After darts the second event started as people gathered at the Tap House steps to get a list of items for a famous scavenger hunt. As soon as Emma Silvermane shouted go folks ran off to attempt to claim the top prize of Mythical Detective Boots. Jade took the top spot and the boots, with her father Gothic Nightwind of RAZE coming in a quick second. Venger of DWxC rounded out the winners circle after almost losing his suit gathering blighted cotton in the Twisted Weald. Of course he was rapidly assisted by Nomand, Pereghost of EVL and Daria Blackmoore.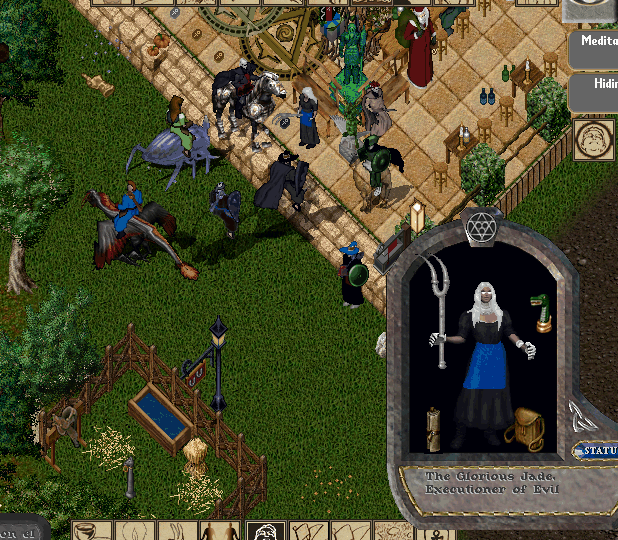 After the excitement of the scavenger hunt an RBG classic and Guardians Gate favorite was held in the Guardians Gate Arena, cow tipping. This event also held a momentous announcement as Mirt announced his coming wedding to Lady Emma Silvermane. Of course this announcement caused the gods of the luck to stack up Emma and Mirt once again with Mirt besting his soon to be wife to end up coming in 3rd place overall. Nanoc of DWxC came in second and Lucious Troy of RBG took top honors.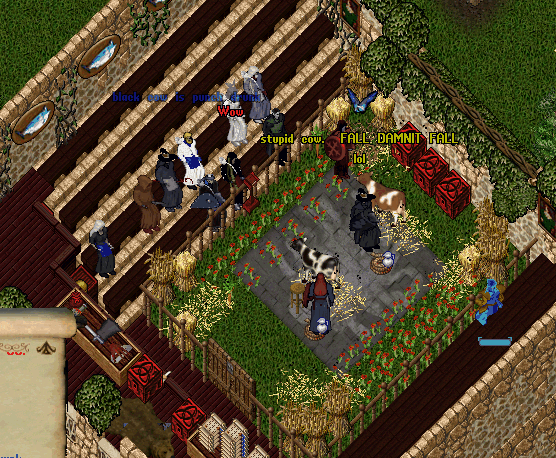 Following the cow tipping a gate was provided to a ship anchored off the Floating Emporium where a net toss was held. After a few successful nets a Scalis was summoned up from the deep and was dispatched with notable help of Shelly of CAT and Ozog of Pitmuck. As well as cannonade from Wat the Tyler and Daria Blackmoore and Jimmy.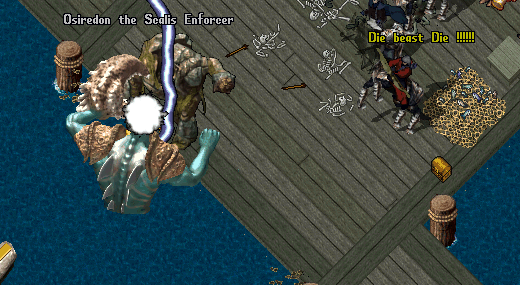 After folks dried out and quit screaming about eels being out to get them folks reconvened at the Arena for an archery contest. Once again Mirt was stacked up against soon to be family member as he lost to Lyra Sleviana Emma's sister. Of course Lyra ended up taking the top spot and winning the contest and Mirt was seen to be aiming not for the middle in what could be the top scandal of the year. There was also a debate as to whether brambles were effecting the flight path of arrows. Despite that Chief Geranimo was able to come in second with Larry Fine rounding out the winners circle.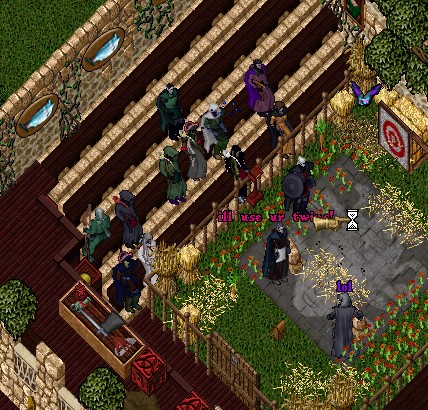 As the events died down a special Guardians Gate auction was held that ran from 9 to 11. The economic pulse of Chesapeake was strong and almost punch drunk after the events of the day with items going for far more then expected. While Alacrity Scrolls and Anniversary tickets, fishing items and maps remained the popular sellers, another Charger of the Fallen was offered up this time fetching a price 7 million, by Abby Normal of UFO, up from the initial asking price of 5 million. A Forged Metal of Artifacts tool with 5 charges went for 6.710 million gold to ICYULoveMe. An Ornament of the Magician went for 16 million gold being purchased for an secrete buyer by Mirt. The real surprise of the night came when a huge bidding war broke out over a decorative white goblin hedge that rapidly advanced upwards from the initial bid of 10,000 gold before Gareth purchased it at 2 million gold. It would be easy to say that the most import thing to learn is get your items in an auction after people have been running around all day to see big returns.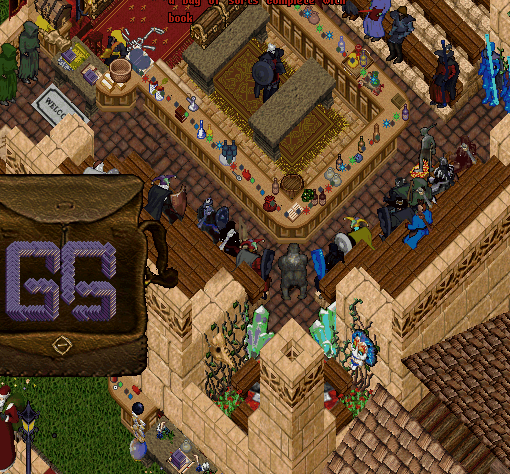 Immediately following the auction fish were collected and prizes were awarded. There were no Blue Marlin catches at all, but Sushi of DWxC was able to claim the 3 million gold purse with a Black Marlin of 34 stones. After a brief closing speech Daria Blackmore unveiled the statue of the Guardians Gate Man of the Year. This year Tina of RBG was honored and the statue is now on display at the Ottersrun Tap House.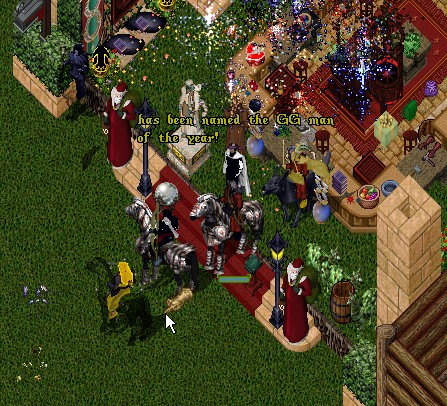 Reporting by Teritus Wands
Photos provided courtesy of Emma Silvermane & Daria Blackmoore