Guild Menu
Return to: Client User Guide – Enhanced

The Guild Roster is accessed by using the Guild Icon from the Menu bar.
My Guild Tab: includes the name of your guild, any alliance you are in, your guild charter, website, check box to show your guild title and the button to resign from the guild. Changes in January 2014 saw the removal of the 'show guild title' check box. This option is now set from the 'open titles menu' on your character's context menu  Details can be found on the page 'Skill Titles & Order'.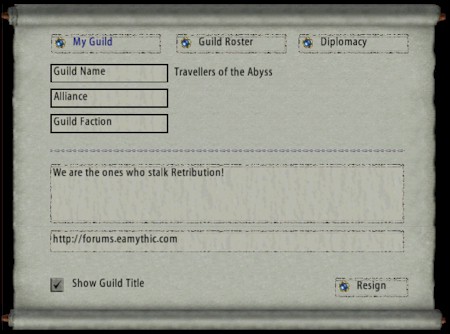 In publish 86 a new checkbox was added 'Join Vice Vs Virtue'.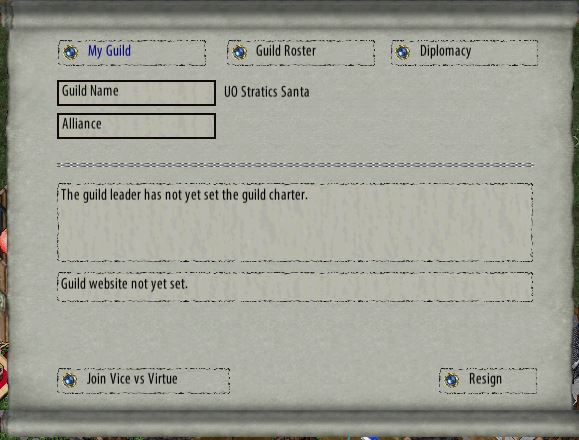 Guild Roster Tab: lists your guild members and allows you to search for a player in your guild by typing into the bar and pressing the large blue gem.  Includes the button to 'invite players' if your character has the relative 'rank'.  By clicking on the small blue gem next to the guild members name it opens the guild member detail screen where they maybe promoted, kicked, have their title set etc.
Diplomacy Tab: Here is where you may search for guilds to request/accept alliances or declare war on another guild, clicking on the name of the guild will open the menu to perform these actions if you have the relative 'rank' to do so.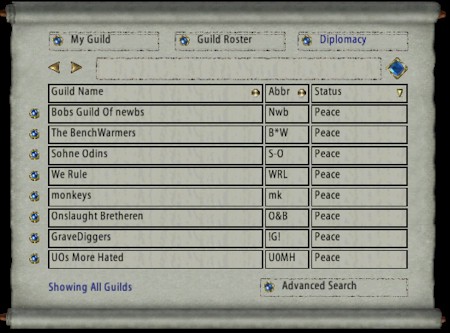 Last modified: September 30, 2014