Grimm's Illusion.
It was time to meet with the professor to destroy another of Zalinderas altars.
But things were very different then expected when he arrived.
He was together with Alrik and he was wearing one of Zalinderas robes!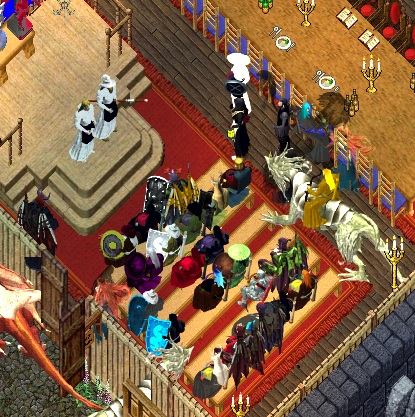 Alrik and Grimm made peace? After all what happened!
Elesil was blamed for all this?
Something was not right here!
Grimm told us to go home because there was nothing to fight anymore.
Grimm and Alrik left the counselors hall, leaving the people in confusion.
Stella could not accept this, They had to find the professor.
She remembered that he was watching the starts often with the big telescope in Moonglow.
She took everyone to Moonglow and found the professor.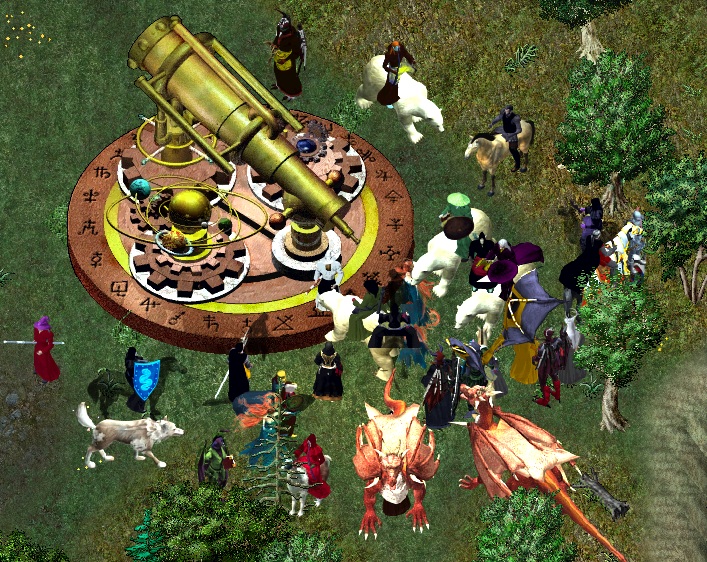 He was walking around the telescope and saying all kind of strange things!
"Alrik is a good guy! Does anybody know where is my pipe? The stars predict a change. A big change! In Jigsaw, a screw is loose, it's clear. *excited* The weaver … Zalindera … she will bring peace to the world … "
What had they done to him?
He started to stutter and mentioned something about a Crystal and a Illusion universe.
What did it mean?
The Zoltan mentioned something about a very powerful Crystal of Illusion.
Now we must find the Crystal and destroy it.
But there was no time for that now.
We had to continue with the professors plan and destroy the altar near Yew.
We had to go to Daniels grave, It was discovered in the Vesper Cemetery.
Stella opened a gate to the Cemetary… But the spiders of Zalindera were expecting us!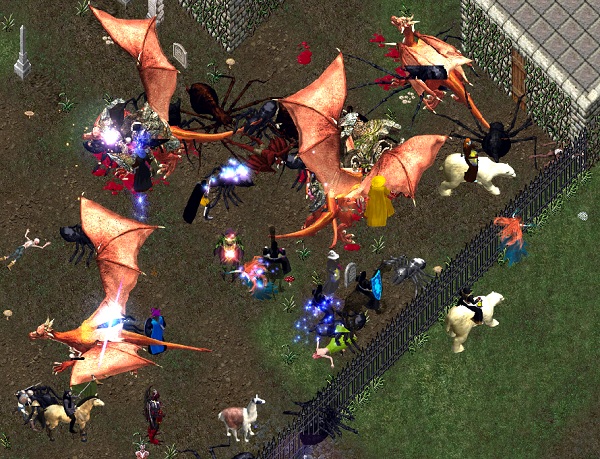 It was one hell of a battle!
When the dust cleared you could find corpses of people and spiders everywhere.
Stella then went to Daniels grave.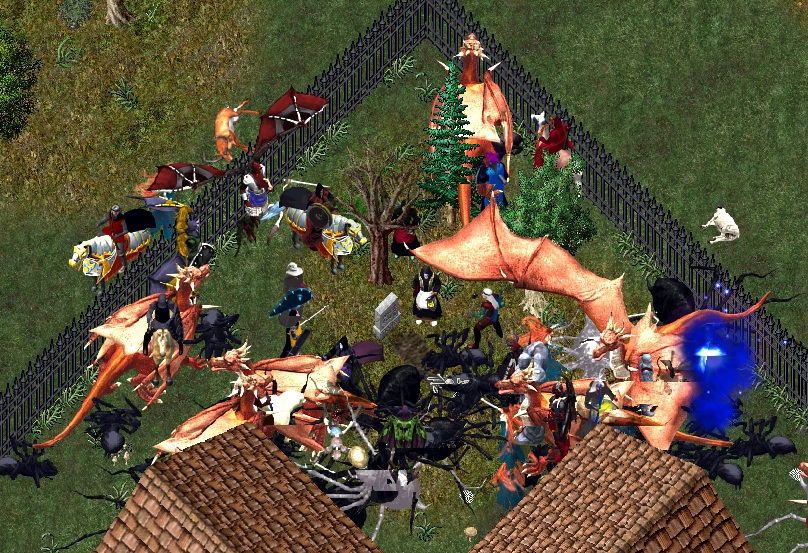 She opened the grave and found the wedding rings.
It was sign of love, It should be powerful enough to destroy the altar.
It was time to go to Yew.
But again Zalinderas army was expecting us.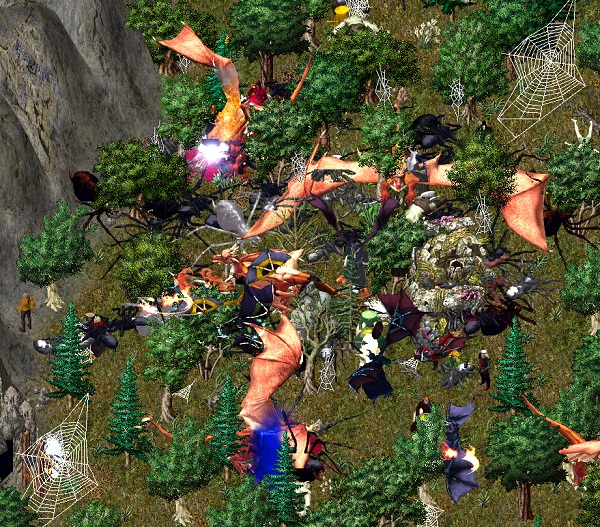 Nothing would stop us to destroy that altar….. well… almost nothing.
Zalindera herself appeared near the altar.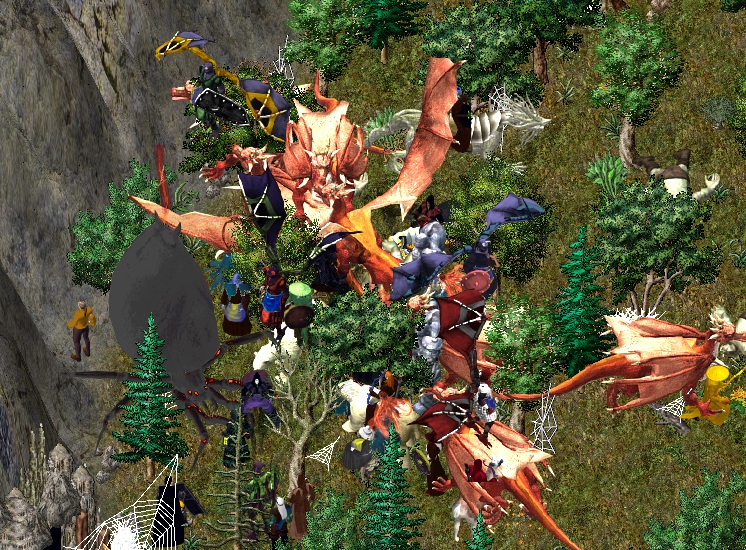 She moved towards Stella and tried to make her change her mind.
Somehow she was able to convince Stella to give her the ring.
While Stella stepped towards Zalindera the other people kept screaming at Stella to snap out of Zalinderas control.
But Stella regained her will and stepped back.
"We will destroy the altar!"
It made Zalindera Furious and ordered a new wave of spiders to attack.
Stella yelled to kill them all and to kill Zalindera!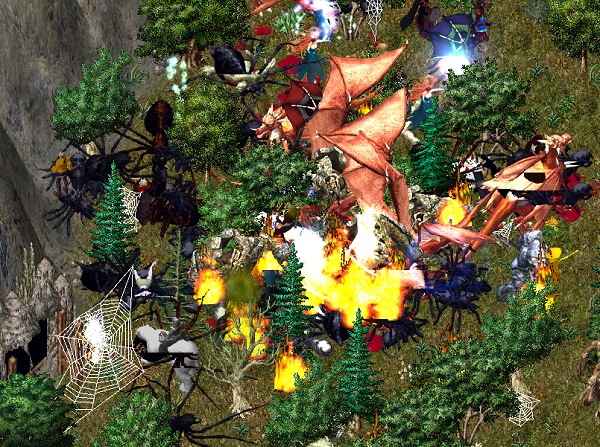 Zalindera disappeared again and her spiders got defeated.
Stella used the ring on the altar and seconds later it was destroyed!
It was a Victory but it had a bitter taste!
Grimm was trapped in his illusions and we need him for the next steps against Zalindera.
Stella had some final words and requests.
"Please look at all the places that have to do with Zalindera. Look also to the Chronicle of Trinsic. Send me a message if you have found the crystal.  Another thing. One speaks of a war between Zalindera and the city of BloodHaven. Travel there. Maybe these people can help us."
 She thanked everyone for their assistance and promised to free Grimm and hunt down Zalindera and her followers.
New Frarc, Drachenfels News reporter.