Result part1
1.Izumo
2.Mugen
3.Wakoku
4.Asuka
5.Mizuho
6.Hokuto
Part 2
Search wisp candy
Resulut
1.Asuka
2.Izumo
3.Mugen
4.Mizuho
5.Wakoku
6.Hokuto
Total
1.Izumo 20points
2.Asuka 15points
3.Mugen 13points
4.Wakoku 7points
5.Mizuho 5points
6.Hokuto 2points
Part3 Attainment
It competes for the number which reached from a start point to the destination.
A start point is in front of Santy house.
There is a stutue of a reindeer in a goal point.



If you arrive at a goal point, please be sure to receive wine using reindeer stutue.
Time: December 17-23 about 3pm JST
Rewords
1.A Reindeer Mask & Peach Fairy Statue
2.Peach Fairy Statue & Magical Paper Lantern
3.Magical Paper Lantern
4.Strawberry Cream Cheese Cake
5.Chocolate Cake
6.Burned Cake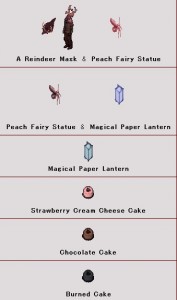 *If Peach Fairy Statue uses it, it will shine.
*If Magical Paper Lantern approach, A will light up.
Although distribution is a schedule from the 24th, it was not decided for details.