When: Tuesdays starts at 7:30 and runs until whenever
Where: Homare-Jima just East of the Moongate
The Community Crafters Hall located in Kijustsu Anei Village hosts their weekly Community Crafting event on Tuesday night. Crafters from the CCS and various guilds come together to give a little back to the shard community by offering free repairs, golems, furniture, training and more.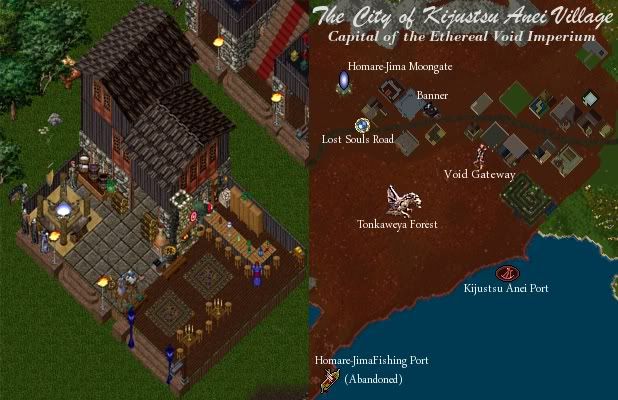 Come one and all for some free repairs. If you need something crafted such as armor, weapons, jewels, Enhancements, Furniture, Training, Repairs, Golems, Q&A, or what have you, just stop on by for assistance and the people there would gladly aid you in your request. Even if you are simply looking for good company, stop by and hang out.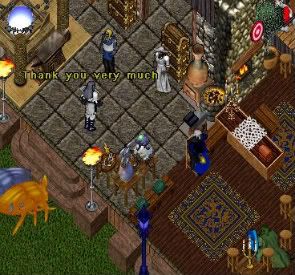 Check out the vendors as well for Cheap repair deeds anytime during the week.
If you might be interested in becoming part of the Community Crafters Hall or the Chesapeake Crafters Society,
please contact Cheever at Icq# 357038585 or Taurik at Icq# 267944224.
Trivia Night Information & Rules
Where & When: Crafters Hall Lawn @ 7:30 every Tuesday Night
Trivia Night will be set up in teams (Depending on how many show up). Each team should set up their own
party chat so they can talk to each other in game. If it is a low attendance, then there shall be no teams.
If you show up late (like after 2 rounds has already passed) then you can still play and get a grab bag.
You will be behind in points however, so good luck!
Everyone who shows up will be given a grab bag with some nice little goodies.
Each team (or person) will be given a bag of books to answer
the questions with in which at the end of each round they will
give 1 book back with all 5 answers in it from that round.
The game will have from 5-7 rounds (7 if time permits) with each round
having 1 question from each of the 5 different categories.
Each question is worth 2 points a piece, therefore giving the potential of
earning 10 points each round.
For the first night reward of gold is givin to the top 3 winning teams or
players. First Place: 1m, Second Place: 750k, Third Place: 500k
There will be no cheating allowed. That means no use of internet, or any
outside information other than that which is in your own brain, so we
will trust that you all play honorably and only use the knowledge in
your head and your teams' brains too.
We also hope that everyone who shows up has a great time. This is all
just for fun. We can't wait to see anyone and everyone that shows up! Good Luck to you all!
~Cheever