. ~ .
AWARDS HALL AND MUSEUM RE-OPENS WITH LATEST DISPLAYS
Those Great Lakes EMs have been busy and I am not talking just about running and creating events. We are lucky and honored to have such an amazing Awards Hall on Great Lakes and it is all do to those wonderful EMs. Elizabella sent me a pigeon the other day informing me the Awards Hall and Museum has  new displays on view so I had to check them out.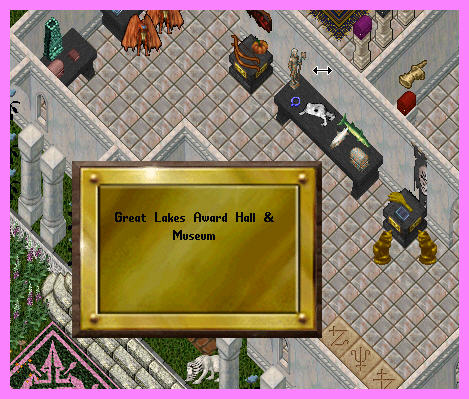 There are hissing cats, marble sphynx and items galore. Past and new Great Lakes history on every floor.  As a girl that has spent alot of time at sea the past five months I had special interest in all things fishey.  The new first floor display houses a Holy Mackeral at 196 stones caught by Tara Gabriel and a Zombie Fish at 152 stones caught by Dangling WORM not to mention a fire fish at 166 stones caught by Tunna of FCB. As I headed to the second floor I noticed that the Harvest King this year is man about town Malag-aste.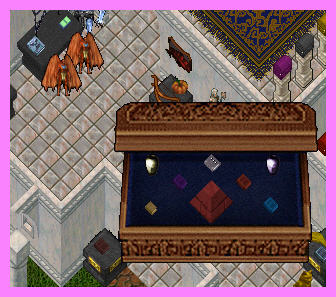 The second floor had more fish on display to my delight caught by Someone's Bored and Von Hogan & Tunna both of FCB. Be sure when you visit this jewel of Great Lakes to open up all the boxes and containers on display. They all house interesting things. It is impossible to highlight everything in the Museum in one article so please be sure to check it out. Most people know this location but by chance you do not you can access this location by the gate outside the Counselor's Hall in the fine city of Brit.