I got together with each of the governors and asked them about their cities and plans. With all the controversies and rumors about I wanted to give each governor a chance to "clear the air as it where" and give everyone a chance to get to know them and what they intend to do for their respective cities. Each city faces it's own unique set of challenges and I want to give the governors a chance to address these issues in a neutral forum so everyone could come to their own conclusions.
Fourth is the Governor of Vesper, Lady Khalessi and here is what she had to say…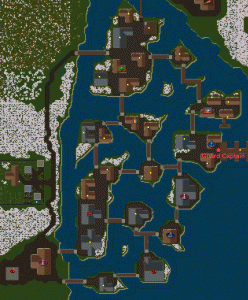 What are your current plans for Vesper?
On the onset of this term, I promised to continue to cultivate Vesper to grow even stronger than the first term. We have started the Justicar Navy and Justicar Guard with Lochmor and Alward as the leads. We had a great drill Friday eve on one of the Britannian ships with a quite a few new citizens and it went very smoothly. Many commented on what fun they had.



We have started having bi-weekly meetings to discuss items that are pertinent and important to Vesper's citizens and have had many other visitors as well. We wish to promote goodwill and kinship among the other towns and create a lot of collaborative play that will promote good rapport. We have been working with Minoc's Yosef who will be jumping around the towns to promote hunting activity in a community format. We'd like to eventually have a Tavern Night at the Marsh Hall and are working out the specifics for that. We are always promoting the commerce aspect of Vesper and have been fortunate to engage the help of Tatianna Thorn and the Emerald Trading Company to bring that to Vesper.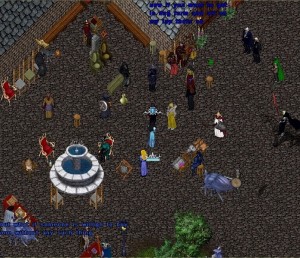 We hope to work with Maginicia in the coming days to host a Commerical Event that will build on that as well. We have our Oktoberfest coming this next week on Saturday which we have worked hard to have all towns represented to bring the best Beers of their lands to show off! Yew's Faeryl and Corinthian have created two of the main events. In November, we will be working closely with Nujelm's Sultan who has invited all the Governor's to a "Retreat". I guess to summarize it all in few a few words, when you hear Vesper you consider it synonymous with "community active".
What obstacles does Vesper face if any?
Obstacles=Hindrance-Difficulty-Complication- Impediments! Well, I am one of those glass half full types and don't really like to concentrate too much on the negative. One of the biggest difficulties I think we face is our human nature. It is natural for us to be competitive in this type of scenario and communication is a key to keeping that in check before division creeps in and makes its mark. I think that is the biggest obstacle that any town, Vesper included, will face. We saw that in the beginning of the second term escalate, but with alot of diplomacy it was diffused.
What factors have contributed to Vesper's growth and success?
Well, that is obvious! It's the people who support Vesper. Not only the citizens but the friends who support other towns who continue to interact together every day! The Citizens I have met since governing Vesper are loyal, enthusiastic, creative, and friendly people. So many times when I am sitting at the bank, I hear people say, "this bank is always so inviting, people talk to you". I have logged on characters no one knows and recalled to the bank, and am always welcomed with a greeting. And Friends, I must say I am blessed with so many of them: Great minds: creative, strategic. Hard working, and Long suffering! They are not afraid to keep me in line if I should so step off occasionally.
How has Vesper changed during your term in office?
When I first took office in July, Vesper was a ghost town. Quacklebush was such a dear to keep me company for hours on end, waiting for the occasional person to recall to the Mint of Vesper. In doing that, we met some wonderful people who we call friends now. There are times now that it might be quiet but on any given day at one point, you can usually expect to see a group discussing the day's events. In saying that, I'd say that Vesper is now known for activity, whether day to day or its monthly events. We saw a great change at the beginning of the first term with the effects of the Embargo. Rumors of drinks being watered down, treason and so on were widespread. Thankfully our King took things in hand, lowering the tax and Magincia and Vesper's ties were restored. It was a trying time to say the least but I feel Vesper is a better place now because of it. It reminds me of a quote I read not long ago from a influenical political figure of long ago."These are the times in which a genius would wish to live. It is not in the still calm of life, or the repose of a pacific station, that great characters are formed. The habits of a vigorous mind are formed in contending with difficulties. Great necessities call out great virtues. When a mind is raised, and animated by scenes that engage the heart, then those qualities which would otherwise lay dormant, wake into life and form the character of the hero and the statesman." Abigail Adams.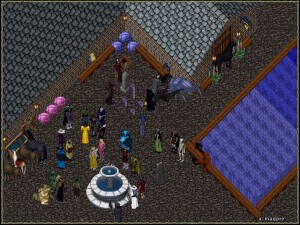 What sets Vesper apart from the others?
I hate to be redundant but it is the people who make up Vesper, the citizens, the visitors who come to shop, bank and peruse our land. Vesper is such an unassuming quaint town, joined by bridges, surrounded by lands with many homes, and accepting of all whether noble or tradesman, beggar or rogue like. It is an island made up of many islands, fifteen to be precise and has been called the city of bridges. Vesper is well aware that it's well being is dependent on the fisherman who fishes from the dock, the customer that shops at our local fair and the good people of our land who persistently explore the vast land span the makes up the town. It is home to the Fisherman's Guild, as its main industry is fishing. It houses the Vesper Museum which was Britania's first and only. Vesper's history has shown that it has always been a land that stands apart and unwilling to conform. Perhaps why it is the one city that lacks a virtue. Of course, that is something we are trying to change and in light of what I just said, The King's suggestion regarding Chaos just might fit! Of course, that will be a matter to discuss at our next Town Meeting. Beware.


Is there anything else you would like to add?
Please allow me to announce a few dates you may wish to mark on your calendar. Vesper will host "Ocktoberfest" on Oct. 19th, Sat. We invite all to join us in celebration, it will be a compilation of Harvest, Halloween and Happy Hour!
Recently the Sultan of Nujelm contacted me and wishes to invite the Governor's to a Retreat at his palace. A date of November 9th has been mentioned and I await further details.
One of our faithful fisherman in Vesper has requested a "Royal Regatta" with which would require the assistance of all towns promoting community. Thellaran wishes to contact all governors regarding the pursuit of his vision. He mentioned December would be an appropriate time.
I close with this aspiration: "Community cannot for long feed on itself; it can only flourish with the coming of others from beyond, their unknown and undiscovered brothers." Howard Thurman