Knowing King Blackthorn was concerned about recent events, I meet with several of the governors learn what had been discussed at the King's meeting . I was told that Vos had been discovered aboard a Blood Flagon ship. A woman, possible the one who broke him out of jail, was seen standing with him. It was noted that the king wasn't surprised as Dahlia had urged that something was amuck. Trinsic's Navy blockade had worked. No new ships had been able to enter or leave. Trapping the Blood Flagons in Buc's Dens water and causing several pirates included the parlay group to take up residence. Captain Corian advised allowing them to remain, until the Royal Spies had some proof they were after.
The King had given the governors good news. The Royal Guard seem to be free of all spies and traitors. I thought to myself could that be because the spy was the woman who had freed Vos. All agreed the King had made a wise decision to promote Captain Corian.
Merrick has now agreed to speak to Corian and provide him with the missing information we need. However Captain Corian didn't fully trust Merrick. He had urged caution when dealing with him. Information that could be verified by the decoded parchment Sherry Mouse had found. The parchment hinted of objects that had been placed in the vaults while Tolivar Fence had been the Royal Spymaster. When asked what the objects were, the King simply said that for now the information was being kept secret. At least until it was compared to the list Merrick was giving Captian Corian.
Asked why the information had gone unnoticed for so long. The King reminded the Governors of how trouble the rule of Casca had been. Leaving things muddled, some of the vaults were forgotten at that time. Hum I wondered, forgotten or hidden. It was suggested that the King appoint someone to take an accounting of the vaults and their contents.
Later that evening I received a message from the King. "Tomorrow evening, I want you to meet with Dahlia. I am concerned that of late, she has not reported to me."
The next day I met Dahlia at the Royal Spies Headquarters. It was obvious that she was troubled. I listened carefully to what she was telling the gathering.  "Corian says it was likely the servant girl was the spy. He feels that Elise wouldn't be so bold to break into Yew Prison. "I tried telling him that she had been seen leaving Buc's Den and had just returned. I swear that the woman's face …" She began biting her lip, clearly annoyed Corian hadn't heard her out.  A worried look crossed her face. "Evidias sent a letter mentioning meeting Merrick, and that everything was going as planned. She claims she spoke to Merrick.  I have not been able to find Captain Corian to ask about the letter. He has said nothing of Merrick being released. Have you been informed of his release."  Looking around I could see that spies were surprised by this news. "Surely Evidias wouldn't help him escape." I told Dahlia, trying to reassure her. "We will talk to her when we arrive in Jhelom. Right now we must see why there is a Blood Flagon fleet of the shores of both Skara Brae and Jhelom."
That news brought shouts of anger. It was decided to go first to Skara Brae. Everyone was prepared for battle. The gates opened and our army stepped through. Hesitating  for a moment,  I remembering the  quick death found  last time I stepped through a gate. Arriving at Skara Brae, I was meet by citizens fleeing from the docks. I stopped one to find out what they were running from. The citizen, out of breath, demanded that I let him go. Didn't I know that Blood Flagons had attacked the ranger's camp. Leaving the ferry,  I moved quickly to the Ranger's Camp following a trail of bodies. I saw that it was not Blood Flagons but instead regular brigands.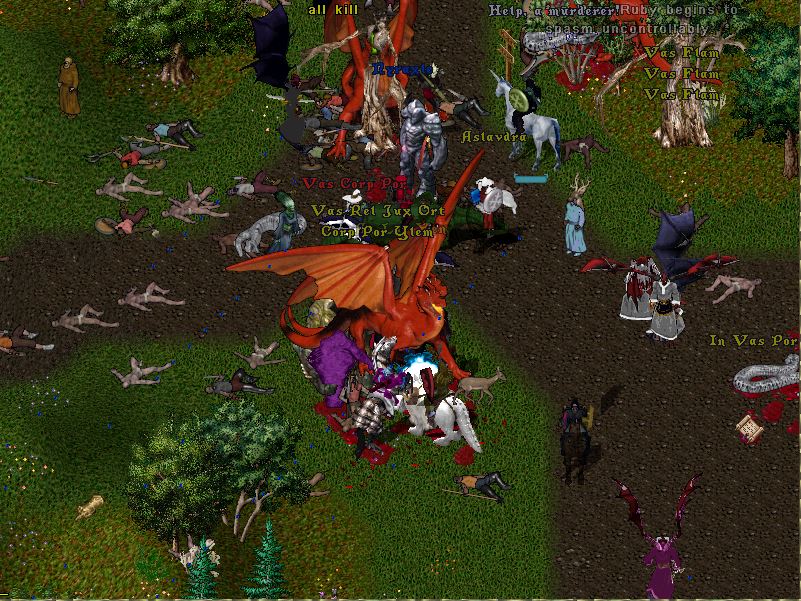 Then I saw the pets they had brought, Sand Snakes! While I hate snakes, they seem to love me. As soon as I arrived, several began chasing me.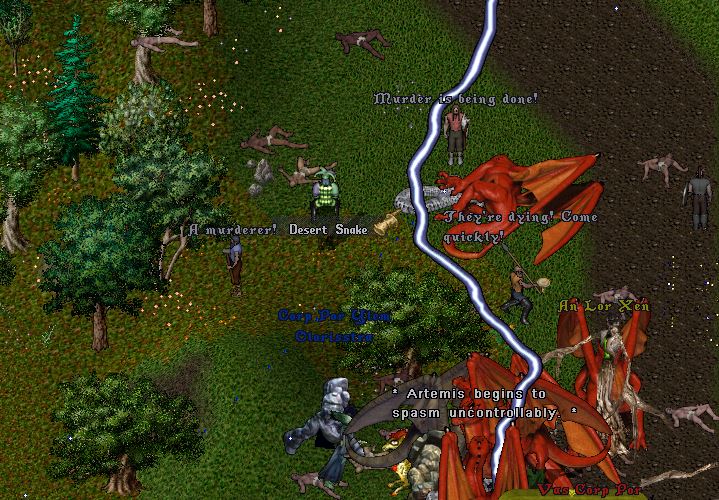 Quickly I hid to watch the battle.  We fought bravely, but still many died.  Not even healers were spared.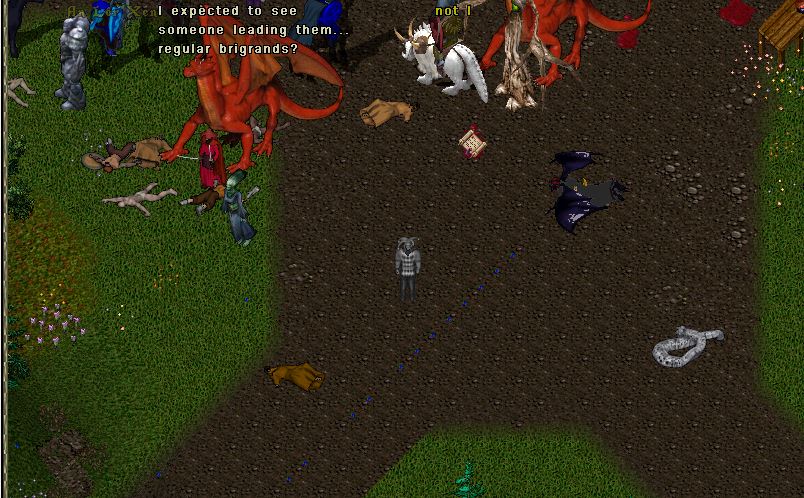 I couldn't wonder, why was the battle so short. I expressed my concern to Dahlia.   Frowning, she quickly regrouped the spies and gated us to Jhelom.