For the past year and a half, town and community establishment banners have emerged in several different locations on Pacific. Each one is uniquely designed by players and pieced together through the work of Mesanna and the shard's event moderators. A hub to link these landmarks with Luna is under construction on the south wall of the city.
Trammel is home to three of these banners, the first being for the Whispering Woods community outside Skara Brae on the mainland. It is located near farms at coordinates of 66'47s 29'23w.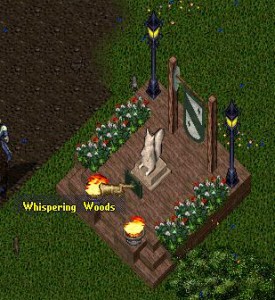 Second is SAGE's town of Sagewind, with a sphynx-adorned banner at 93'47'N, 56'48'E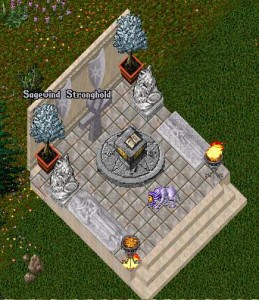 The other is a great tree in the ElF guild's elven city of Eldador south of Dungeon Ice near 127'32n 56'19e.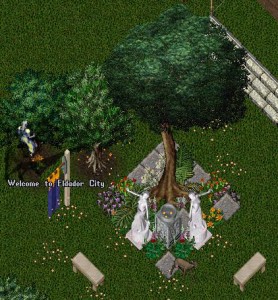 In southern Malas, the guild VK has a sandstone banner marking its Town of Valor in the sand to the West of Umbra at 17'40n 36'12e.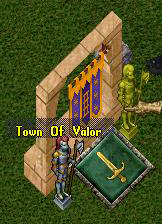 To the North, an ornamental pond outside Pacific Auction House adds decoration to Luna City with a special dolphin inside.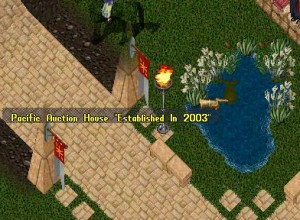 EOTD's blood-splattered monument is to the west of Luna at 74'48n  49'38e.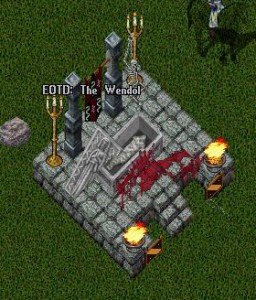 The Tokuno islands also have two banners. The first of them is found on the eastern side of Makoto-jima at 30'20n 30'30w. This beautiful structure marks GOL's community on the island.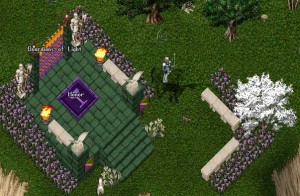 The last is located on its own island in the Tokuno seas(114'32n 80'43w). Avalon Island holds museums and a library run by the ARC guild.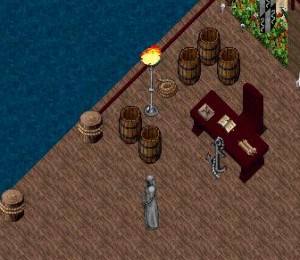 For more information on the application process for a town or establishment banner, please see the Pacific Event Moderator website at http://pacific.uoem.net/?page_id=10