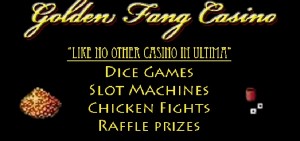 When I was first asked to consider doing a review of The Golden Fang Casino I was unsure if I wanted the assignment or not. I had no idea what direction it would take if I decided to check them out. If you have sat at Luna Bank for any length of time on a Wed or Sat night, then you too may have heard the same accusations I have. Cheaters, scammers, everything is rigged etc. The last thing I wanted was to be stuck in a position of weighing building the community versus exposing a scam. When it comes to Shard Reporting I feel it is our obligation/responsibility to try and build the community in whatever positive ways we can. Did I really want to waste an hour or two looking into something only to find out it's a scammers delight, when that time could be better spent somewhere else? As I tried to balance it and make my decision it finally hit me…. IF there was a scam, then exposing it would be building the community in a way. My mind made up, I mounted up and caught the next gate to The Golden Fang.
This is not a suspense story, so I will not hold my opinion on the scam versus no scam until the end. After spending some time reading the rules of the various games The Golden Fang actually has a considerably less statistical advantage to them winning than real casinos have. Is it a gamble? Can you lose gold? Well Duhhhhh, that's why they call it a Casino. Can you win gold? Not to brag but I pocketed a little over 7m in just under an hour of gambling on an alt character. Not to mention the 5m I pocketed by winning the Chicken Fight on my main character, or the people who shared in the raffle with a total prize of 3.5m. So, yes, you can. My personal opinion on Scam versus No Scam? No Scam at all, just some good folks coming together to break up the mundane and give the people of Atlantic another avenue to have some fun.  
Since that is out of the way…..
The Golden Fang Casino is a perfect place to unwind after a long day of skill training, monster bashing, bank sitting or any other activity Britannia has to offer. From the moment you walk between the towering Golden Gargoyle Statues and through the double doors you know great thought, care and pride went into every aspect of the Casino. Featuring 24/7 Slot Machines, Chicken Fights on Saturday nights and six different dice games with names like Craps, Blackjack and Beat the Bank to choose from, even a novice gambler can find something that sparks their interest. Rules are clearly displayed for all the games, and the friendly, courteous staff will gladly explain in detail anything you do not quite understand. For the aggressive gambler they offer true High Roller status. Not only can you earn High Roller armor that pays you a table credit on each visit, but you can also achieve Legendary High Roller Status and be immortalized with a statue of yourself in their High Roller Club.
If gambling is not your thing The Golden Fang is a perfect place to grab that someone special and head out for a nice dinner and a few drinks. You can sit atop the Casino taking in the spectacular panoramic view of the westernmost part of The Northern Crags while enjoying a full menu featuring dishes elaborate as Roast Pig, and as simple as Chaos Wings. Not only does the food menu cater to every taste, but the Drink and Spirits list does as well. They run the gamut from a Light Ale that indeed goes down smooth as they claim to Darkshade Delight, their own blend of several liquors topped off with nightshade extract. If you are an occasional drinker I would shy away from the latter, as it seems to be designed to knock something proverbial in the dirt. When it comes to building a successful establishment you can tell the only things the staff has left to chance are the games themselves.
So, if you find yourself tired of the grind one Wed. or Sat. night around 6:00pm Est., give the folks of The Golden Fang a shot at breaking you out of the rut. Personally, I would urge you to do it this Saturday night as they are unveiling The Golden Fang Nightclub, in addition to the normal Casino activities. Just look for the gates in Luna or use the Teleporter at the Blue Crane Portal, just across the street to the West of Goodman's Rune Library.