Zox's Museum of Fish Re-opens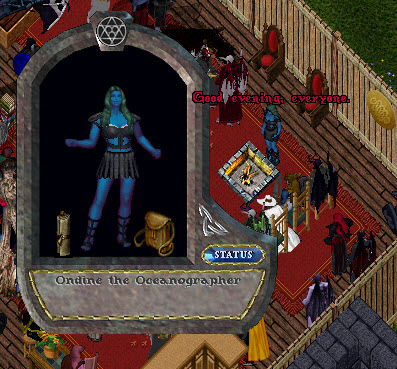 .
Most of my summer has been filled with travel and amour so time in the realm was limited. September is here and like many of us I will be back on tract. Sunday evening a pigeon came my way from EM Elizabella that there was a group venturing to Octopus Garden and I did not want to miss it. I was not the only one wanting to see this water soaked location. I looked around the hall to see the old die hard Martyna Z'muir and many others including Pure Joy, Lady Starr, Shewolf, Jakob, blanc De blanc, Bless The Fall, Longtoothz, Kendrelyne, Revenge, Venekor, Janieha Emberlyn, Shumer, Froggy, Skye, Hennessy, Nille, JINX, Deavous, Panda Express, Lost and Found, Selina, Tizzle, Azazel, miner man, Prometheus, Sarin, Lady Fraise, Lord Sigma a.k.a. Siggy, Ellis Kingsburry, Lord John, Brill, Rutee, DeathWish, Savannah and Imara. These are just a tip of the seaweed as it were.
Odine arrived and filled the crowd in on what has been happening over the long summer after she stated she was rather happy to no longer be in mermaid form. She may no longer be in mermaid form but glows of an unnatural blue hue. After being away most of the summer this recap was rather helpful. Little did I know of the perils of drywalkers, underwater creatures and the state of the museum collection at its new location. This information made me think I should be careful by the water in the future as to not be pulled under by a catfish. The time had come to visit the Octopus Garden but the weak were warned the garden was not only beautiful but dangerous and that it was decorated with drywalker body parts and curious zombifying fluid not to mention aggressive water foul.
.
.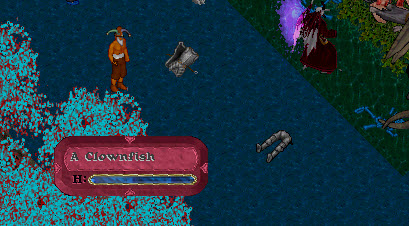 .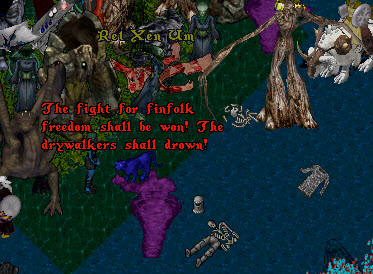 .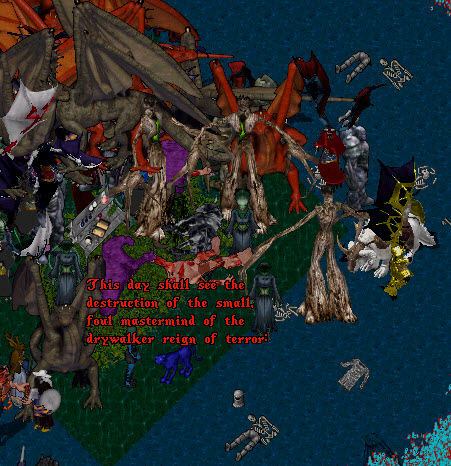 .
The garden was indeed beautiful and dangerous. Many creatures attacked us including Sea Monkeys, Rock Lobsters, Angel Fish and the fish we were warned most about, the Clown Fish. This nasty beast shows itself in human form dressed as a clown and for many a clown is a very scary image. The fighting did not stop at the Octopus Garden either. We were informed Khul'kruk was planning to steal the few remaining fish housed in The Awards Hall/Museum and he may be there now. The group banded together and off we went to the new and improved Awards Hall location which is now a grouping of three structures. More water creatures awaited us including Dread Lobsters, Reaper Fish, Blue Marlin, Stone Fish, Giant Koi and Zombie Fish. On land these creatures seemed even more powerful. Many died at the fins of these creatures before Khul'kruk appeared.
.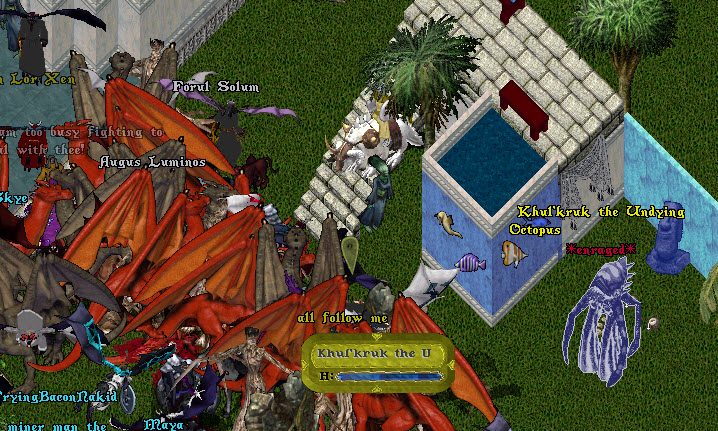 .
The crowd however was ready for Khul'kruk and after a long battle he was nothing but sushi and not just his arms like when the chef got ahold of him in the past. The missing objects from the museum were recovered and Zox appeared and was delighted to re-open the floor that houses the fish museum. It was great to see the collection again which includes trophies by award winner fishers including, Flipper Flanigan, Tunna, WORM, Lord Spurlock, Von Hogan, Emeril, Lady of the Mist and Lucifer Darkwind.
.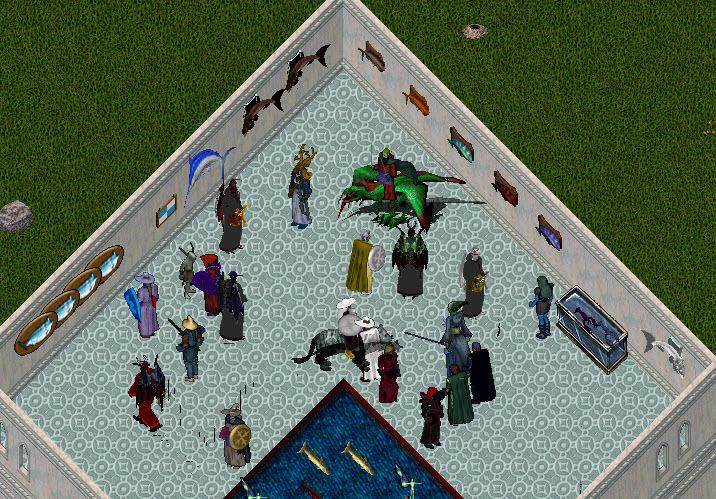 .
The new buildings that make up the Awards Hall are impressive and greatly designed. If you have not made a trip to see them please take the time and do so. Containers can be opened to reveal much of our history and the people that helped make it.  cords: 43o 41'N, 47o 31'N