~ . ~
Yew-Wood Forest Theatre Hosts Harvest Festival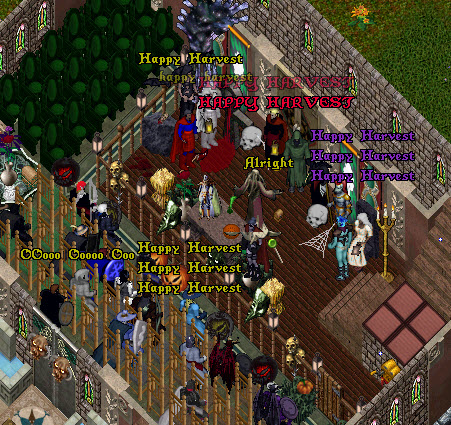 General chat and pigeons far and wide were sending the message that Tanda was
opening gates to the Harvest Festival from the Luna Bank. Lady Lava herself took one
of those very gates.
Erich greeted at the front door of the theatre and handed me a lovely gift bag full of
treats including a little spending gold, cookies, pumpkin pie, a Jack O' Lantern Carver
and a tasty bottle of Pumpkin Fire Spirits.
The event had already started when I arrived and Hellga the Hag was doing seasonal
trivia with the crowd that had already gathered. I took a seat between old friends,
Buddha of AP3X and ONYX of  -Y-.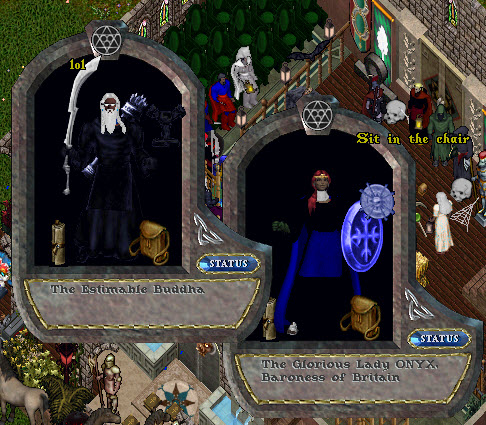 The lovely Lady Martyna Z'muir was on stage assisting the very creepy looking Hellga.
The costume contest was beginning and I was most excited as I have always loved a
costume or fashion contest.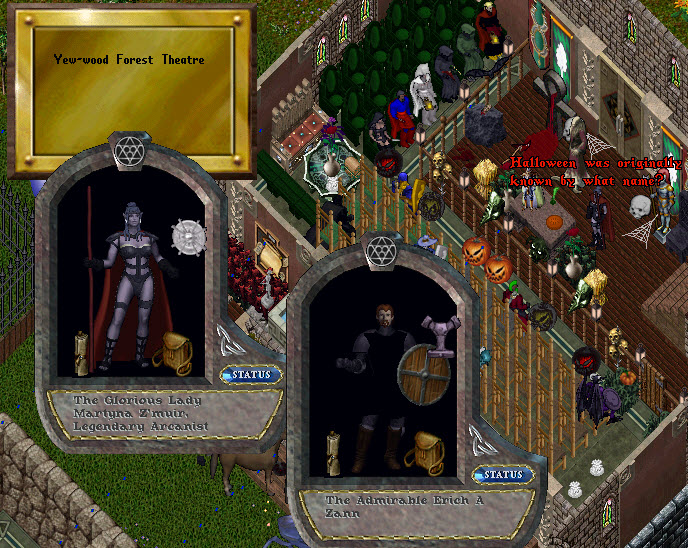 As each entry entered the stage they were asked , " tell me of your character ".  There
were a wide range of costumes/characters from a Bad Girl and Death to a Sweet
Transvestite from Transylvania.
It was hard to pick a winner and more trivia took place while the judges mulled over
the entries.
Third place went to, Superman. He walked off with a cool million and a mask.
Second place went to, Deaf Bride. She walked off with two million and a hat.
First place went to a, Talking Polar Bear. It walked off with four million and a hat!
After the costume contest a spawn was calling out my name so I did not attend the
scavenger hunt. No doubt it was full of fun and maybe a little spook.
Player run events are some of the best times on Great Lakes. Thank you to everyone
that put time and energy into this event.