The Trinsic Market enjoyed a lovely spring evening on Saturday for
its monthly gathering.  The market is located close to the docks and
shopping is accompanied by the sounds of surf and seagulls as visitors browse.
Many fine wares were displayed for sale, and the food vendors were set up and
hawking their creations..    The quiche vendor in particular was a favorite
of this reporter!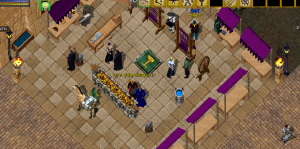 The market is held monthly and anyone wishing to set up a booth or just
peddle some wares,  are encouraged to contact Trinsic Governor Thom.