UO Journal Converter
Return to: Tools and Downloads


| Download UOJC (v1.4.4 – 550kb) |
| UOJC Manual |
| skills.ini |
---
UO Journal Converter (UOJC), is a program for those who save their Ultima Online journals, so that they can read about what they did that day in the game. Offcourse, after a few days, these journals become large in size, and are hard to read. There is also alot of spam, skill messages and other things like that.
Well, this is where UOJC comes in. The program features the following:
Storing Separate Files for each day of your playing UO.
Splitting large journals into several smaller chunks.
Storing journals in separate folders for every day.
Making journals into HTML files, with different colors for different peoples names that you yourself select.
Filtering unwanted text from the journals, including skill messages, players speech, and other fully customisable messages.
Starting all your Favorite UO 3rd Party software (UO Magic Tool, UO Automap etc).
Creating an HTML index file from which you can easilly access all your journals, you can even enter descriptions for each journal as it is created.
This program is now a UO Pro utility (scroll to the bottom)! So its not considered a cheat or gives you an unfair advantage over others, simply helps you keep a good track of your adventures.

---
---
Last Updated: 18th of June 1999. Send email to Tolian T. Worf at: [email protected]
A Thank You very Much to Xena Dragon and UO Stratics for hosting this page!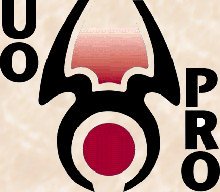 UO Journal Converter is Freeware.
This is a "UO Pro" Utility, which means that its use promotes and is in keeping with the spirit of the Ultima Online product, community and value system, and the use of this utility by players will not be considered by Origin Systems, Inc. as cheating.
This product was created, and is marketed and distributed by Tolian Worf under license from Origin Systems, Inc. ORIGIN SYSTEMS HAS NOT TESTED THIS PRODUCT IN ANY WAY WHATSOEVER AND DOES NOT KNOW WHETHER IT WORKS IN ANY OR ALL REASONABLY FORESEEABLE SITUATIONS OR THAT IT WILL NOT CAUSE DAMAGE IN SOME REASONABLY FORESEEABLE SITUATIONS. Tolian Worf solely warrants that this product will work as intended to your reasonable expectations, and does not infringe anyone's intellectual property rights.
To verify that this product is a "UO Pro" utility, please go to Origin's website at http://support.owo.com/uopro.html and locate the name of this product. Follow the link on Origin's page back to this site. If you can't find this product listed on Origin's website, then this product is not an approved "UO Pro" Utility. Any and all unauthorized use of the UO Pro logo and/or other false claims of approval are strictly prohibited and shall be prosecuted."
Ultima Online and Origin are trademarks of Origin Systems, Inc. Used by permission.
Last modified: September 8, 2011