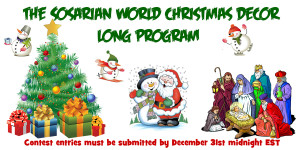 It gives me great pleasure to announce on behalf of UO Guide, Kayhynn's UO Home Decor, The Stratics Network & Goodman's Rune Library…
"The Sosarian World Christmas Décor Long Program!"
Inspired by the Sosarian World Winter Olympic Games, the World Christmas Décor Long Program is the foremost Shardwide Christmas Decor Contest.
To Qualify your Creative Space must be a home in Sosaria on any UO shard.
It must be decorated in great & festive Christmas Detail.
It must have at least 2 of the 4 technical Elements shown below to qualify.
1. Snowman
2. Christmas tree
3. Santa
4. Nativity Scene
Your program will consist of Screenshots posted (sized according to this sites' graphics specifications ) below this announcement to qualify showing all your technical elements and at least one showing overall design.
Home Owner's name & Forum Name if different from Home Owner, Shard name, Facet & Co-ordinates to the entered home must be posted to a qualifying forum listed.
Single homes, multiple homes & vendor establishments are welcome and will be judged with equal weight.
Official Judges will visit your entry. UOHomeDecor will be doing a Tour & Video.
Entries must include at least 2 of 4 technical elements and over all presentation including idea, concept, vision and unity. Winners will be contacted via PM on the site that the entry was posted.
Two 6.0 scores will be awarded by the Sosarian World Winter Olympic Judges for Technical marks and Creative marks, the sum of which will compile the Total Competition Score.
Highest Score will win the following Prizes on the shard of your choice.
1st – $60 in UO Codes or 300 Million
2nd – $40 in UO Codes or 200 Million
3rd – $20 in UO Codes or 100 Million
There will be extra surprise prizes graciously donated by the Sponsors.
Contest will run from December 1st to December 31st. Winners will be announced on January 1st, 2014.
Three Official Entry Collection Sites will include UO Guide's UO Discussion Forum, Stratics' UO Homes and Castles Forum & UOForums' UO Homes & Castles Forum.
If you need help with your screenshots Kayhynn from UOHomeDecor can be reached at
[email protected] and she will be happy to help you with them.
Questions can also be PM to Kayhynn or Andrasta or to [email protected]
Best Wishes of the Season & Good Luck to All!