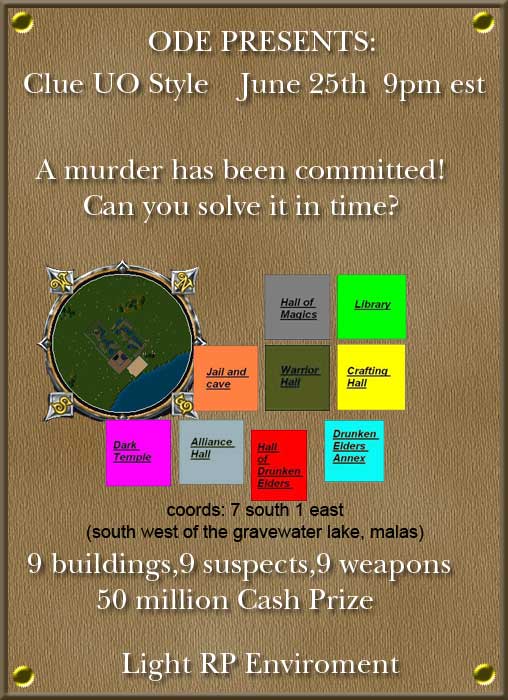 A team will be able to make as many suggestions as they wish to any of the suspects. A suggestion will be: A suspect, a weapon and a place. If the suggestion is wrong, nothing happens.
A team will be able to make ONE AND ONLY ONE accusation which will be their final answer. This accusation will be made through a book that will be given to each team at the beginning of the event. If the accusation is wrong, the team making the accusation will be eliminated.
You will have a small delay before you can make a suggestion again to the same suspect (~1Min)
There are 9 suspects, 9 possible weapons and 9 places within Tazar's estate.
Every time a team will make a suggestion to a suspect (ODE member), the answer can either be "I do not know" or "It's not possible because …". Each suspect will have his specific portion of the answer so run around and you will get a different answer from each suspect to the same suggestion. Keep in mind that the suspects will roam around the estate (they will not remain stationary).
Of course, time will be the issue. If another team makes an accusation and is right, they will win the game, but giving a wrong answer will get them disqualified. In the end, you should be fairly certain of your accusation before you make it.
The loot: 50Mil to the winning team!
Time allowed: None specified… The game will go on as long as there is still a team that has not been eliminated or until a team wins.
(For any questions, please contact Geezer at ICQ 564-517-995, or any member of ODE)