The Fisher's Rest.
I was invited in the opening of the new establishment The Fisher's Rest.
But because of the situation in the towns i asked my good old friend Captain Seoman to have a look.
I knew he would not refuse a task like that knowing that there was free drinks to get.
When i looked at his notes this morning it seems that he had too much of the aquavit they gave him.
It is a good thing i can understand his gibberish a little.
The Fisher's Rest can be reached easily with using the pink teleporter at the teleportation hub in New Magincia.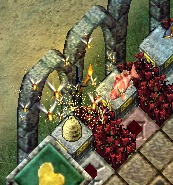 When arriving at The Fisher's Rest i was welcomed by Elise the Saint and Thomas Tew.
They know how to treat a guest and gave me a bottle of aquavit.
It was no rum but at least we would not get a dry throat here.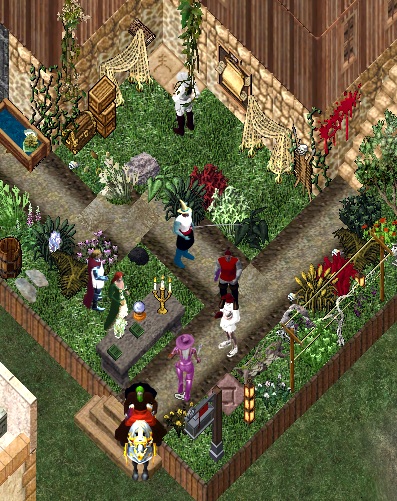 More guests arrived slowly while i was running out of booze.
Elise was very nice and gave me two more bottles.
Some other guests where clearly landlubbers and tree huggers who could not hold there liquor!
Elise told me the idea of her shop.
Its not just a shop where you can buy fish pies and all kinda fish on the roof.
You can also buy everything you need for pirating or hunting pirates.
It has a nice inn too where you can relax and tell fish stories after a day of hard work.
In the corner you can find a handy MIB library.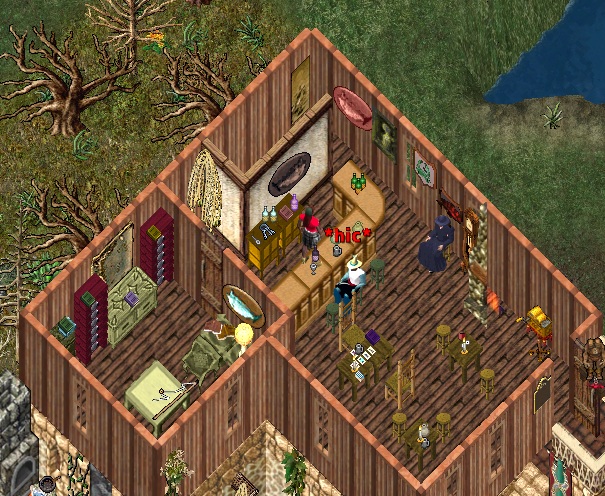 This place also have a handy new feature.
It has a market where you can exchange your fish.
Some of us fisherman and woman have big fishmonger orders and have a hard time to get the right fish.
In the Fisher's Rest you can trade your fish for the same type of fish you need.
The Market and the Inn are open every Wednesday from 8pm to 10pm CET for trading.
But trades can also be done every day.
Just buy a order book from Annabell the broker and leave your desired fish and amount in the book with your name and leave it in the mailbox.
They will complete your order as quickly as possible and contact you trough  general chat.
And of course not just fisherman and woman are welcome to have a drink in the Inn.
The Fisher's Rest will be very helpful for all of us who wants to complete all those fishmonger quests fast!
New Frarc, Drachenfels News reporter.