Sir Red's Memorial.
It was one of those days we all hope never have to go trough
The loss of friends or family.
But it is part of all of our lives.
Sir Red was taken from us and the last thing we could do its to give him a last respect he deserved from the community of Drachenfels.
We all gathered at the north side of the city of Cove.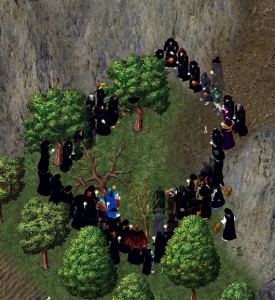 It was ask to remove all weapons and to leave behind our mounts.
Black robes and torches where given out.
Personally i don't wear black, not even on a sad day like this.
I wear white to remember all the good things that our lost friends and family gave us in the time we spend together.
When we where all ready we walked slowly out of Cove.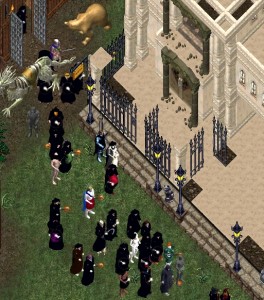 It was near Cove that Sir Red had his home.
After a short walk to the northeast we came to the place that Sir Red's friends had chosen as the right place for the memorial stone.
We all gathered in silence around the stone.
It was Soul.Train who gave the last speech:
"Dear players,
We've gathered here today to commemorate Sir Red, also known as Red5.
Especially in the years 2000 – 2006 Sir Red was active as a broker,trader and collector on the shards Drachenfels and Europe. Through the years he helped many active players due to his work and his existence, and so he earned the respect of the community across the shards.
As some of you know, he took an out-time and came back to the game about 6 months ago. He quickly took back his ancestral place and has also expanded his activity to the server Atlantic.
Despite his *as he said by himself* poor English skills, he also found new friends and contacts there. At this point his friends and teammates from Atlantic asked me.. to express his wife and two children their heartfelt condolences.
Although he knew by himself that he was seriously ill, he took the time to be there for others, who were in difficult situations. Whether by phone, in ICQ or TeamSpeak he always sought the positive in life and tried to pass this on to his environment.
We lost a friend and a key Member of our Community!
It's nice to see you all gathered here together. Let us spend a minute of silence together and commemorate Sir Red and all who left us in recent years.
Farewell und Rest in Peace *alter Haudegen* Fare thee well and rest in peace *old warhorse*
There is one thing left to say…….
A Special Thank You to EM Borbarad and all the volunteers. Due to their dedication they made it possible for Sir Red / Christian to always have a special Place on Drachenfels and in our hearts!"
After his speech we all took a moment of silence.
For all to remember not only the loss of Sir Red but the loss of all of our friends and family in the past.
Then one by one stepped up to the memorial stone and gave Sir Red our final goodbye.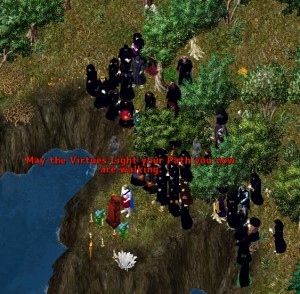 And last of all , EM Borbarad gave Sir Red a well deserved final bow.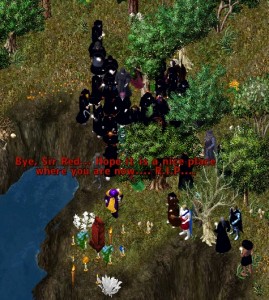 And wherever Sir Red now is, he should know he will not be forgotten by all the people he touched their hearts.
R.I.P.
New Frarc, Drachenfels News reporter.