Rewarded.
The day came when the last cure have been turned in to help the sick gargoyles.
The alchemists that spend hours and days to make these cures have not been forgotten.
The Mysterious Healer handed them a commendation from Queen Zhah.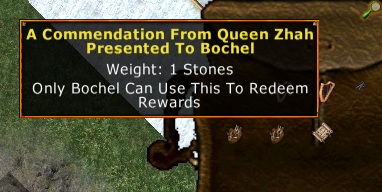 Depending on how many cures the alchemists made for the mysterious healer , they where rewarded with several items.
A Sash:
A Staff:
A Necklace:
Bracers:
These hard working alchemist can be proud what they did to help the gargoyles!
Lets hope that these cures can now save many lives!
New Frarc, Drachenfels News reporter.