Meet and Greet.
It is been a while since our last Meet and Greet with EM Borbarad .
A lot of people where waiting for him at the counselors hall.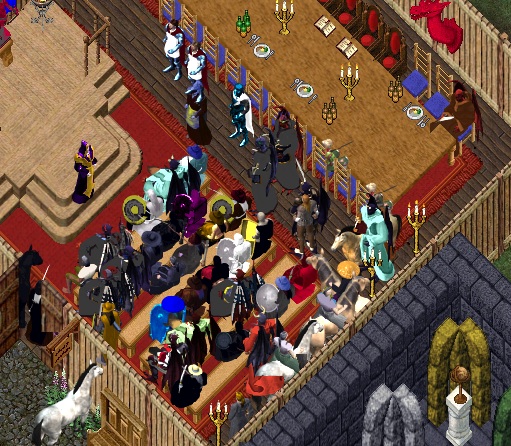 After he welcomed us we could ask him some questions.
Medea was there and i am sure Borbarad knows by now that she always have some very good and direct questions about important matters.
One of them was about a teleporter that is broken too Lenmir Anfinmotas in Ilshenar.
It is the beach where Sudiva's new home is.
At the end of the Meet and Greet Medea took Borbarad to the teleporter but it seems that the teleporter needs to be fixed by the higher powers.
We will make sure to remind Borbarad often about this problem until it is fixed.
Another topic was player towns.
Currently we have two official towns, Drachental and The Council of Yew.
Borbarad told us there is a third coming.
But there is a bit of a problem with the towns banner of  Gackshaven that needs to be fixed first.
When i know the towns banner is placed i will visit the town to make a official report about it.
Borbarad told us that you can still applied to make a town and get a banner.
All you need to know about player towns can be found here : Player Towns: Recognition and Banners
There needs to be at least five towns for a teleportation hub.
I think that's to link the towns to each other.
If you have any question about the towns or a idea for a event feel free to contact EM Borbarad : [email protected]
After discussing all kinda of topics we got a surprise visit by Lady Mesanna!
She was there to dye our Halloween masks with her name on.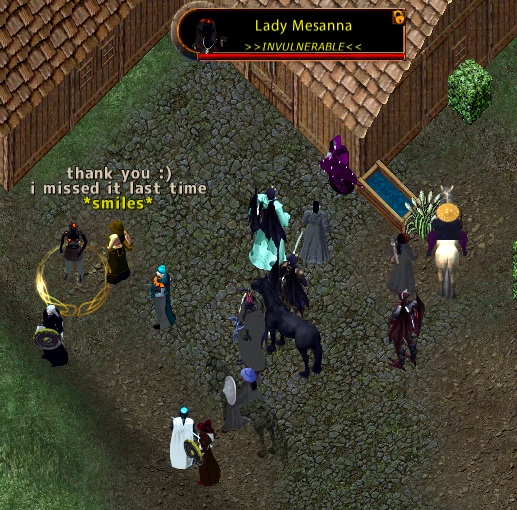 Everyone rushed home to find her masks to be dyed.
Even i had one and before i went to sleep i have it a nice place in my house.
Even Borbarad took home a special dyed mask for the EM Museum.
Mesanna told that if there are people who missed her today she still will dye the masks on the next time she visits.
That could be soon when she return to play with us her new game : Lets make a deal!
New Frarc, Drachenfels News reporter.