MOA is Green
.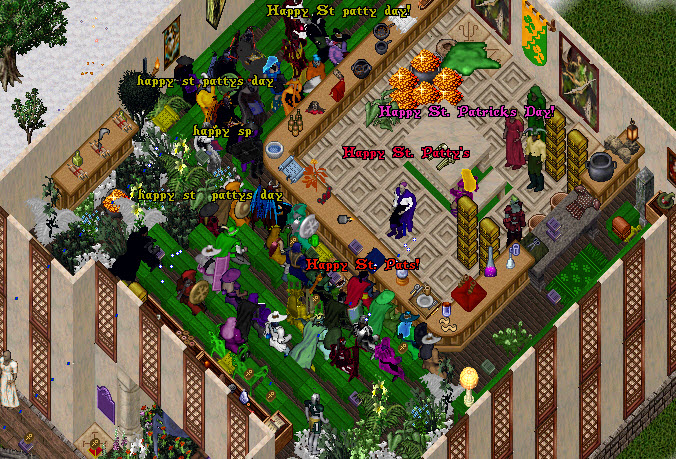 .
MOA is decked out for the holiday, St Patty's that is, as they always are. MOA is lucky to have the amazing in house designer on staff, the one and only Melian. I arrived this past Thursday at the auction house a little early and the place was already filling up. Looking around I could help but notice some really fashionable ladies and gents in the house. Aridas, Black Widow, Rebecca, Farrah, Lord Thor, Lady Alice, Smacks, Zman, Turb, Hannah, Skye, Rosemary, Olive Isbane, Lord HyBris, Rathgar, Qat, Lord Thorrean, Lord Iggy, Hewett, Captain Murphy, Raina, Jack Sparrow, Oreo, Miss Kitty, Miss Pussy, Kellusion, Rose Red, Speed, Lord Swifty, Lady Ang, Roodysamp, Willa of the Yew-Wood and Lady Dot Warner were but a few in my eye sight. Speaking of Lady Dot Warner I had a little chat with her during the auction. It appears there seems to be more than one Dot Warner in our world and there are two running for office. Be sure when voting you vote for the Dot you want ! For me there will only be one Lady Dot Warner.
.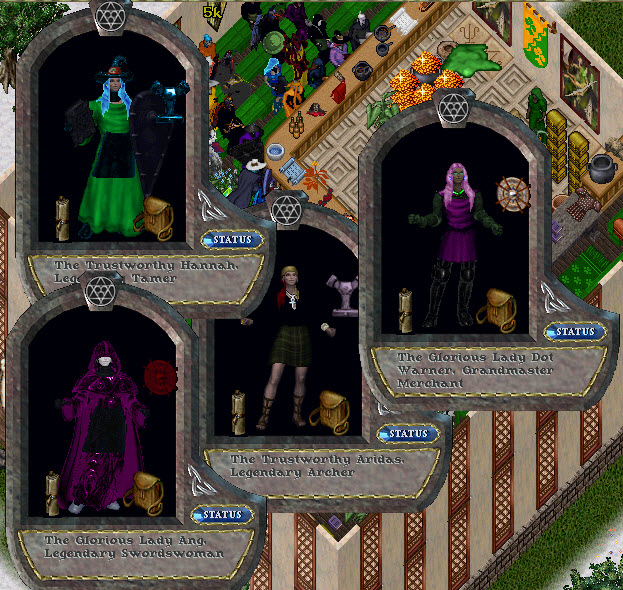 F0ur of the lovely veteran women of Great Lakes
.
It had been  some time since my last time at an auction house and it was great to see things still hopping and the MOA staff in top form. The beautiful Emerald Ice gated me from the Luna Bank to the auction house and she kept those gates up during the entire event. Little did I know the evening would include the selling of chicken blood for 195 million gold. It was the going price of the spittoon that had me most excited as I own one which I have had more years than I can remember. Sadly I still do not know the going rate on Great Lakes as the starting bid was 375 million with no takers. It is not that I plan on ever selling my spittoon, sometimes a girl needs one when having male visitors, but one was just curious as to what her assets are worth.
As in past visits through the years MOA had a little drama and excitement. One person was banned ( which rarely happens ) for bad behavior, someone tried to set the house on fire and there were three nudists prancing about in their birthday suits.  Needless to say it was a fun evening.
.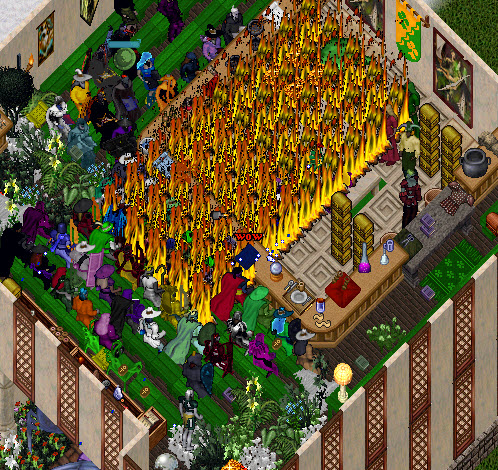 .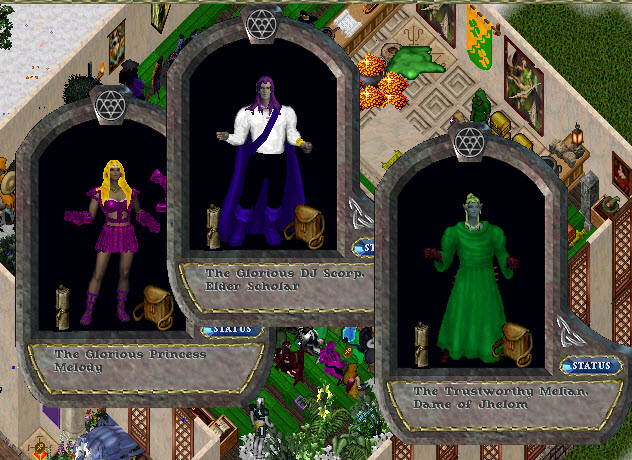 The always helpful and entertaining MOA staff
.