Attention!  Any and all able bodied beings no matter your color, creed or race are being called to arms in a shard wide effort on June 23rd starting at 9pm.  Sharpen your swords, strengthen your potions and prepare for the unknown as speculations and rumors swirl throughout the Legends community over what the cause for the call to arms may be.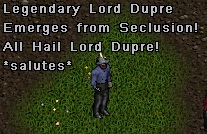 There have been several current events that may or may not be connected to this call to arms including the emergence of Lord Dupre.  Dupre is a highly respected, decorated knight who has been in seclusion for some time.  His recent emergence in multiple battles defending virtuous cities on Legends has raised a few question.  Where did he go and why has he returned now?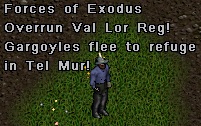 Other current events include the troubles of the Gargoyles starting with the sacking of Val Lor Reg by the Exodus Minions and also the quarantine of infected souls outside Ter Mur.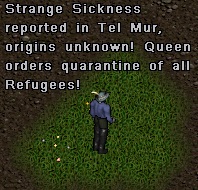 Several other problems and events loom as well.  The rioters continue to litter the cities as citizens still remain unhappy.  Reports are that Castle Blackthorn has been demolished on the Trammel facet while Castle Britain has sealed its gates.  Insiders have also reported that a gate on the Felucca facet found at the entrance to Castle Blackthorn will lead you inside the walls of Castle Britain in Trammel.  Very curious.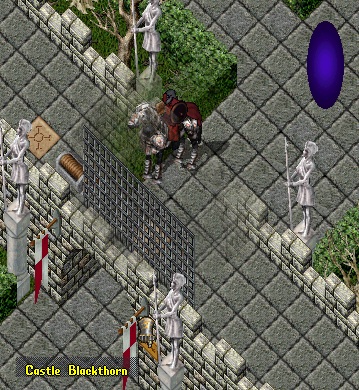 It's possible that all these situations may come to a front while not ruling out the idea that something new has arisen causing this call to arms.  In any matter please prepare yourself for the events which will be upon us shortly.
Some current events took place last night (6/22) in relation to the call to arms.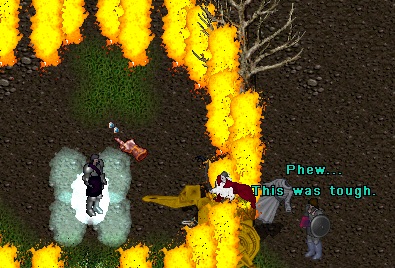 In a courageous effort a small group of warriors, crafters and healers set up a new camp outside the deserts in Central Illshenar.  Led by Lord Dupre the group fought back a large wave of exodus machines clearing a small area near Ver Lor Reg.  The camp will be used as a supply line tonight during the 'call to arms'.