The Britain Library Collection
Return to: Community Collections
The Britain Library Collection: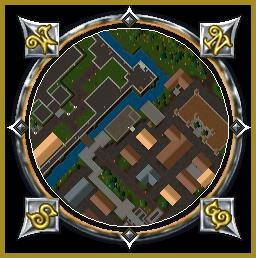 To be able to donate to the Library you must first complete a quest.
There is a complete walkthrough for it located here
Once you have completed the Quest you can start donating.
The library also offers not just one collector, but many different NPCs each specializing on their own trade. Be aware that the rewards also vary on the different NPCs so be sure to check them all out before you commit to one, since the reward points do NOT transfer. You may donate items collectively, as the contents of a bag or individually.
The main library collector, The Master of Trades, accepts the following donations at the listed ratio: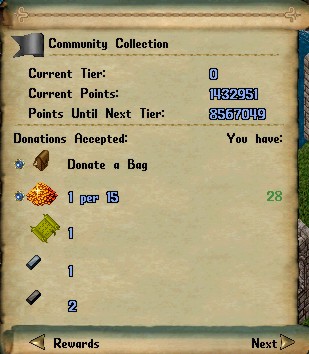 Gold coins at 1 point per 15 coins
Checks at 1 point per 15 gold
Iron ingot at 1 point per ingot
Dull copper ingot at 2 points per ingot
Shadow iron ingot at 4 points per ingot
Copper ingot at 8 points per ingot
Bronze ingot at 12 points per ingot
Gold ingot at 18 points per ingot
Agapite ingot at 14 points per ingot
Verite ingot at 31 points per ingot
Valorite ingot at 39 points per ingot
Leather hide at 2 points per hide
Spined leather hide at 5 points per hide
Horned leather hide at 10 points per hide
Barbed leather hide at 15 points per hide
Piece of leather at 2 points per piece
Piece of spined leather at 5 points per piece
Piece of horned leather at 10 points per piece
Piece of barbed leather at 15 points per piece
Steal able red book at 3 points per book
Steal able tan book at 3 points per book
Other NPCs:
Besides their speciality items, the following NPCs will also accept:
Gold coins at 1 point per 15 coins
Checks at 1 point per 15 gold
Stealable red book at 3 points per book
Stealable tan book at 3 points per book
Animal Trainer:
Shepherd's Crook at 7 points per
Dragon scales at 20 points per
Artist:
Scribe's pen at 1 point per
Empty scroll at 1 point per
Fertile dirt at 1 point per
Boards at 1 point per
Oak boards at 3 points per
Ash boards at 6 points per
Yew boards at 9 points per
Heartwood boards at 12 points per
Bloodwood boards at 24 points per
Frostwood boards at 48 points per
Fisher:
Fishing Pole at 2 points per
Large fish at 1 point per
Raw fish steaks at 1 point per 4 steaks
Crabs at 10 points per
Lobsters at 10 points per
Mage:
Spellbook at 10 points per
Any of the magery reagents at 1 point per
Musician:
Drum at 8 points per
Lute at 8 points per
Necromancer:
Necromancer spell book at 12 points per
Any of the necromancer reagents at 1 point per
Paladin:
Chivalry book at 12 points per
Samurai:
Book of Bushido at 30 points per
Bokuto at 8 points per
Daisho at 22 points per
No-Dachi at 27 per
Thief:
Lock pick at 1 point per
Lesser poison potion at 1 point per
Deadly poison potion at 5 point per
Cloth ninja hood at 11 points per
Leather ninja hood at 16 points per
Treasure hunter:
Empty scroll at 1 point per
Plainly drawn Treasure Map at 5 points per
Expertly drawn Treasure Map at 8 points per
Adeptly drawn Treasure Map at 11 points per
Cleverly drawn Treasure Map at 14 points per
Deviously drawn Treasure Map at 17 points per
Ingeniously drawn Treasure Map at 20 points per
Warrior:
Buckler at 9 points per
Battle Axe at 9 points per
All NPC's
Item Name / Property
Value
Points
Friends of the Library Sash
3 Hues
100,000
No Properties
Friends of the Library Surcoat
3 Hues
100,000
No Properties
Friends of the Library Pants
3 Hues
100,000
No Properties
Friends of the Library Cloak
3 Hues
100,000
No Properties
Friends of the Library Doublet
3 Hues
100,000
No Properties
Friends of the Library Kilt
3 Hues
100,000
No Properties
Friends of the Library Feathered Hat
3 Hues
100,000
Weight
1 Stone
Fire Resist
5%
Cold Resist
9%
Poison Resist
5%
Energy Resist
5%
Strength Requirement
10
Durability
24/24
Title: Britain Public Library Contributor
100,000
No Properties
Friends of the Library Reading Lantern
5 Hues
200,000
No Properties
Friends of the Library Reading Chair
5 Hues
200,000
No Properties
Title: Distinguished Library Contributor
200,000
No Properties
Book – Quotes From the Pen of
5 Hues
350,000
Sherry The Mouse
Blessed
Wyrd Beastmaster
Blessed
Mercenary Justin
Blessed
Heigel of Moonglow
Blessed
"Horace, Trader"
Blessed
Title: Honored Library Contributor
350,000
No Properties
Library Talismans
Treatise On Alchemy
550,000
No double click effect
Weight
1 Stone
Alchemy Bonus
Random
Magery
+5
Enhance Potions
15%
A Primer On Arms Damage Removal
550,000
Removes Lasting Damage Effects
Weight
1 Stone
Strength Bonus
1
Hit Point Regeneration
2
Damage Increase
20%
My Book
550,000
No double click effect
Weight
1 Stone
Inscription Exceptional Bonus
Random
Inscription Bonus
Random
Intelligence Bonus
5
Mana Increase
2
Talking To Wisps Ward Removal
550,000
Ward Removal on target
Weight
1 Stone
Spirit Speak
+3
Evaluate Intelligence
+5
A Grammar Of Orchish (Summoner)
550,000
Summons an Orc Brute
Weight
1 Stone
Random Animal Protection
+10%
Resisting Spells
+5
Anatomy
+7
Birds Of Britannia Random Summoner
550,000
Summons Random Creatures
Weight
1 Stone
The Animal Taming
+5
Animal Lore
+5
Bird Slayer
The Life of A Traveling Minstrel Curse Remover
550,000
Lifts Curses on target
Weight
1 Stone
Random Monster Protection
Random
Provocation
+5
Musicianship
+5
Title: Prominent Library Contributor
550,000
No Properties
Title: Eminent Library Contributor
800,000
No Properties
The Master of Trades
Item Name / Property
Value
Points
Reading Glasses Of The Trades
800,000
Requirement: Mondain's Legacy
Weight
2 Stones
Strength Bonus
10
Intelligence Bonus
10
Physical Resist
10%
Fire Resist
10%
Cold Resist
10%
Poison Resist
10%
Energy Resist
10%
Strength Requirement
45
Durability
255/255
The Animal Trainer
Item Name / Property
Value
Points
Anthropomorphist Glasses
800,000
Weight
2 Stones
Requirement: Mondain's Legacy
Hit Point Increase
5
Mana Regeneration
3
Physical Resist
5%
Fire Resist
5%
Cold Resist
10%
Poison Resist
20%
Energy Resist
20%
Strength Requirement
45
Durability
255/255
The Artist
Item Name / Property
Value
Points
Reading Glasses Of The Arts
800,000
Weight
2 Stones
Requirement: Mondain's Legacy
Strength Bonus
5
Intelligence Bonus
3
Hit Point Increase
15
Physical Resist
10%
Fire Resist
8%
Cold Resist
8%
Poison Resist
4%
Energy Resist
10%
Strength Requirement
45
Durability
255/255
The Fisher
Item Name / Property
Value
Points
Maritime Reading Glasses
800,000
Weight
2 Stones
Requirement: Mondain's Legacy
Night Sight
Luck
150
Reflect Physical Damage
20%
Physical Resist
3%
Fire Resist
4%
Cold Resist
30%
Poison Resist
5%
Energy Resist
3%
Strength Requirement
45
Durability
255/255
Britannian Ship

10,000,000
Requirement: High Seas Booster
Non-Transferable Account Bound item
The Mage
Item Name / Property
Value
Points
Wizard's Crystal Reading Glasses
800,000
Requirement: Mondain's Legacy
Weight
2 Stones
Mana Increase
10
Mana Regeneration
3
Spell Damage Increase
15%
Physical Resist
5%
Fire Resist
5%
Cold Resist
5%
Poison Resist
5%
Energy Resist
5%
Strength Requirement
45
Durability
255/255
The Musician
Item Name / Property
Value
Points
Lyrical Reading Glasses
800,000
Weight
2 Stones
Requirement: Mondain's Legacy
Hit Lower Defense
20%
Frostwood
Night Sight
Reflect Physical Damage
15%
Physical Resist
10%
Fire Resist
10%
Cold Resist
10%
Poison Resist
10%
Energy Resist
10%
Strength Requirement
45
Durability
255/255
The Necromancer
Item Name / Property
Value
Points
Necromantic Reading Glasses
800,000
Requirement: Mondain's Legacy
Weight
1 Stone
Lower Mana Cost
15%
Lower Reagent Cost
30%
The Paladin
Item Name / Property
Value
Points
Light Of Way Reading Glasses
800,000
Weight
2 Stones
Requirement: Mondain's Legacy
Strength Bonus
7
Intelligence Bonus
5
Damage Increase
30%
Physical Resist
10%
Fire Resist
10%
Cold Resist
10%
Poison Resist
10%
Energy Resist
10%
Strength Requirement
45
Durability
255/255
The Samurai
Item Name / Property
Value
Points
Folded Steel Reading Glasses
800,000
Weight
2 Stones
Requirement: Mondain's Legacy
Strength Bonus
8
Night Sight
Defense Chance Increase
15%
Physical Resist
20%
Fire Resist
10%
Cold Resist
10%
Poison Resist
10%
Energy Resist
10%
Strength Requirement
45
Durability
255/255
The Thief
Item Name / Property
Value
Points
Poisoned Reading Glasses
800,000
Weight
2 Stones
Requirement: Mondain's Legacy
Stamina Increase
3
Stamina Regeneration
4
Physical Resist
10%
Fire Resist
10%
Cold Resist
10%
Poison Resist
30%
Energy Resist
10%
Strength Requirement
45
Durability
255/255
The Treasure Hunter
Item Name / Property
Value
Points
Treasures And Trinkets Reading Glasses
800,000
Weight
2 Stones
Requirement: Mondain's Legacy
Intelligence Bonus
10
Hit Point Increase
5
Spell Damage Increase
10%
Physical Resist
10%
Fire Resist
10%
Cold Resist
10%
Poison Resist
10%
Energy Resist
10%
Strength Requirement
45
Durability
255/255
The Warrior
Item Name / Property
Value
Points
Mace and Shield Reading Glasses
800,000
Weight
2 Stones
Requirement: Mondain's Legacy
Hit lower defense
30 %
Strength Bonus
10
Dexterity Bonus
5
Physical Resist
25%
Fire Resist
10%
Cold Resist
10%
Poison Resist
10%
Energy Resist
10%
Strength Requirement
45
Durability
255/255
Lady Aalia
Petra Fyde
April 2009
Last modified: October 18, 2011