Perfect Pergolas
Return to: Echo Deco
Adding a pergola to your house is a way to pretty it up without blocking movement and adding a touch of 'interest' to a corner, roof-space or entry way. Used as an entry for your friends to walk under to get to your door makes your house appear friendly and welcoming. It adds an interest to any garden space and can be decorated in many different ways. Even in the non custom houses such as Castles and Keeps, you can always add a pergola to those areas of dull grey stone to brighten them up. If you are able to customise you can put in 'permanent' poles to hold it up, either log or brick, for those who don't wish to customise again or can't there are other options for your 'poles' to give the same effect.
There are many variations you may use from full height pergolas to small rows of 'vineyard' type placing. It is up to your imagination! I like to use grapes on mine for the color contrast, however you may use whatever you like to add that touch of color.
Note: in all the following graphics, the pergola is made from gnarled staffs, these may be crafted in one direction, however the other direction only comes as 'loot' off monsters, demons seem to be a good monster to score the opposite direction staffs from. You may use anything you like for the trellis part of the pergola, however it is difficult to find anything that will lie north/south or east/west correctly. Black staffs may also be used as these you can find in both directions, purchased off the weapon NPC's or as loot off monsters.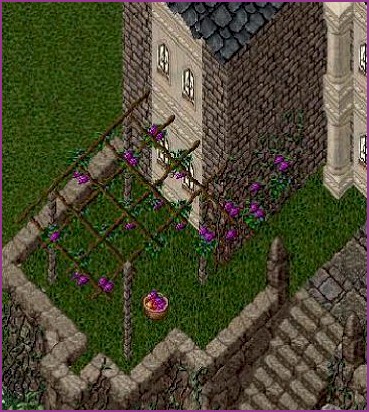 Classic Pergola:
Here is a classic styled pergola, using brick posts from the customise menu with the vines on the wall spilling onto the pergola with a nice display of grapes.
The 'vines' are made from nightshade on the pergola, vines on the walls and grapes in bunches of 2 or singly placed. The fruit basket has a few extra grapes added to the top to keep in theme.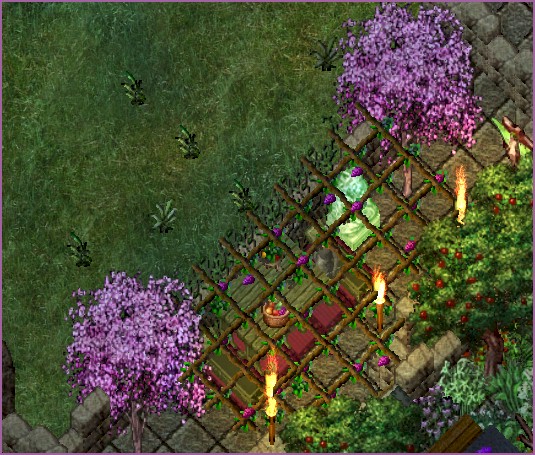 Classic Pergola II:
Here is a classic styled pergola, that has no posts as such to hold it up. It is suspended from the castle roof and goes over the edge of the west battlements. The Flowering cherries at each end mask the edge of the pergola. Torches are added for a touch of 'light' at night and the table and loveseats under add a nice place to 'rest' and put up your feet. Again the pergola has nightshade and grape bunches to dangle over the top.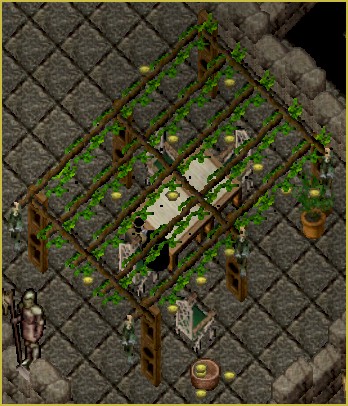 Espaliered Lemons Pergola:
This pergola is free standing, using clock frames as the 'posts'. It uses 'parasitic plants' available from the lumberjack trade as the 'vines' and lemons in singles and bunches of 2. A flower pot holds the lemon 'tree' which has been let grow up and espaliered across the pergola.
2 elegant low tables and 4 ornate elven chairs provide a nice place to sit, and the basket with extra lemons adds to the 'theme'.
The same can be done for melons and pumpkins and if used by the wall of a house, as in the classic above, vines may be used to continue the theme across to the brickwork or walls. Tribal berries or Grapes of Wrath may also be used as 'blueberries' to add to your theme.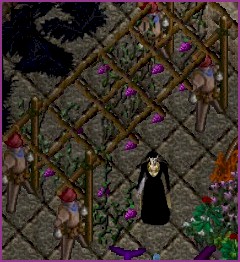 Small Farmyard/Vege Garden Pergola:
This pergola is free standing, using training dummies as the 'posts'. On this one only vines have been used to provide the greenery with grapes added for color. The training dummies also double up as scarecrows for the garden!
The parasitic plants as used in the Espaliered Lemon above look great when used on a lower vineyard type set up with grapes as they form a nice neat edge along the staffs. You may also used diseased bark, a Melisande peerless ingredient, to form some nice vegetation on your pergolas. Another type of plant that looks 'great' over a pergola if you have any available are the 'rubble' morning glories that were available with the Magincia event.There are many, many themes you can create with a pergola such as:
Christmas theme: add stockings, candy canes and the dragon sect badges, available from the Citadel peerless monsters, look great as Christmas baubles.
Bridal Pergola: use the parasitic plants and snow, on the pergola, with white and plain snowdrop plants surrounding the outside edge underneath. Also add an alter or podium with white goza mats on the floor.
It is all up to the imagination!
Last modified: March 26, 2011