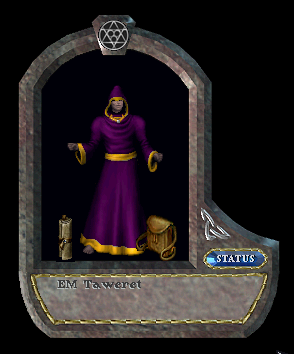 With a polite curtsey Atlantics newest EM was introduced to the mob that is Atlantic. She described herself as a Mom, a reader who devours books and as someone who has been playing Ultima Online since 2001. She went on to say she has not been much of a Roleplayer in the past but EM Bennu is helping her along in that area. EM Taweret honestly seems to be looking forward to hosting events for everyone, including those who call Fel home. It is no secret how the majority of events in Fel turn out, most everyone knows they end with mayhem and/or griefing. Yet she even wants to give those in Fel another shot at demonstrating they can "behave" long enough to have an event that even reds can attend. Some would call her an eternal optimist for that undertaking, while others would say she is simply trying to be as inclusive as she can be and trying to make things fun for everyone regardless of their playstyle. I would say she seems to be both.
EM Taweret will be hosting some events in the daytime hours and some during the late night hours for those who are unable to make the prime time events. In closing she mentioned she felt lucky to be an EM, especially on Atlantic, but the initial reaction of those in attendance seemed to show that we are lucky to have someone as friendly, patient and inclusive as her.
Welcome EM Taweret, may you be with us for years to come.
Discuss this article here