Hail and Well Met!
EM Seppo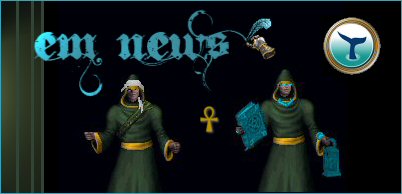 Greetings Baja.
It is a cold but bright early morning here with the clear sky lending a delightful view of the mighty Matterhorn. From beneath its shadow, I write my last letter to you.
By the time you read it, I would have already bid my farewell to you in game. Unfortunately, there are likely to be a few to whom I will not get the opportunity. As I will probably explain during the meet and greet, it has been a long time coming. Perhaps, bit too quick in the end. But, like pulling a bandaid, farewells are always easier done quickly.
As it often happens in the world of Sosaria, real life has caught up with me. Despite all my attempts, it had become increasingly difficult for me to continue to juggle responsibilities and time-zones. Pangs of guilt and frustration started to surface as I found myself no longer able to implement my ideas due to temporal constraints. There were many times in the past six months that I came close to this day, but always hesitated as I did not want to leave the shard in the hands of two inexperienced EM's. However, with Baja getting an excellent EM in the form of Godiva, the timing feels right. In the past couple of months, I have seen her grow as an EM and I feel comfortable in leaving the shard in her capable hands. Godiva, thank you for making this decision easier for me and I do not pass this mantle of responsibility lightly to you.
It goes without saying that I have thoroughly enjoyed my experience as an Event Moderator of our wornderful shard. I will take with me a life-time of brilliant memories from this experience. For the past 48 hours, my mind has been randomly flashing through exactly such memories: watching Mama Faith trying to decipher the puzzle to the secret blackrock lab, being almost eaten during my first visit to the Mage Tower with Nicholas and WildStar, meeting Fern for the first time, all the crazy mercenary invasions, the rush I felt when we put up Casca's war banners, the joy I saw on Elladan's virtual face when I asked him to be the knight-witness to Queen Dawn's coronation, patrolling the streets on WIlliam along with Kemer, ducking from James on Aino Nystad as I felt terribly insecure of my thee's and thou's, the very first Skara Brae Faire grounds festival, Brackus and the town guards – oh, my precious town guards, watching Cymidei and her gang of red caps interact with the town guards, Kurpur – the cutest orc I will meet, Yattering – the cutest yattering that I will meet, running around on Bartalbe, meeting Sara, and others on my very first day as EM, Girl Scout cookies, spending 24 hours straight hiding egg on Easter bunny, attending the opening ceremony of Township center on Kullervo Nystad, throwing pies at Sally while hidden, the High Council experience, the beautiful weddings I got to reside upon as an EM, rebellion against Lord Casca, sight of Handalf running around in circles, talking "trash" on Mercenary captain everytime he killed a player, especially SuperKen, having a chance of seeing Golden Brew Tavern come back to life (atleast for a while), the sight of Bacchus and Halo together, and so many more that I cannot possibly hope to write them all down right now.
I would also like to give a shout out to my former partners-in-crime: Pallando and Crysania. We will always share a special bond and I hope that one day we can meet for a drink. Also, would like to give a special shout out to EM Eira, EM Aname, EM Emilelayne, EM Fainemorgan, former EM Kaen, and former EM Kasaven for their help with assisting me with various events on Baja. I will most definitely miss the entire EM team and I hope someone else will pick up the mantle of licking and slapping with trouts. It has been such a pleasure to discuss various aspects of our jobs and learning from each other. Finally, I would like to express my deepest and most heartfelt thanks to Mesanna who has become more than a mere boss over the years.
So, as my time as an event moderator comes to an end, I would like to say that I am proud of everything we achieved together. I will always carry with me the strength of this experience and for that, I would thank each and every one of you. We laughed, we fought, we cried, you died and over the years, we became a virtual family. And, now, I know how it must feel to bid farewell to one's own family.
Seppo, signing out.