The Daemon Prince.
Elesil was expecting us in the counselors hall.
The hall was overflowing with people when she arrived.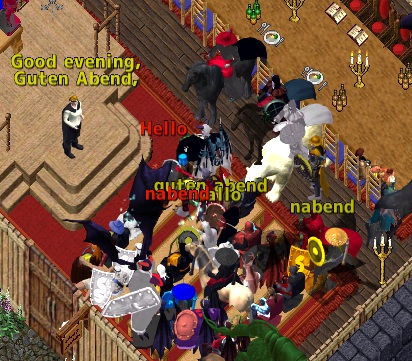 Now that the riots calmed down a little it was time to investigate the strange invasion of the different type of creatures.
And we should not forget that professor Grimm was still missing after he stepped inside the crack to the netherworld.
You could see that Elesil was very sad that he was gone.
We could only pray that nothing happened to him.
He is the only expert on Sosaria we have.
The creatures that are invading are becoming stronger and stronger.
Elesil had to go look for help at another unknown continent , there is a little hope to find a solution for our problem there.
Elesil counted on our help to detain the creatures while she was looking for help.
She opened up a gate to the entrance of the ice dungeon.
With the large group we moved ourself trough the dungeon to the far back of it.
There was a large force of old demons waiting for us at the entrance of the back room of the dungeon.
It took a while to fight our way to the inside.
Some of these demons where nothing more then a mirror image of other demons.
It made it very difficult to fight the right demons.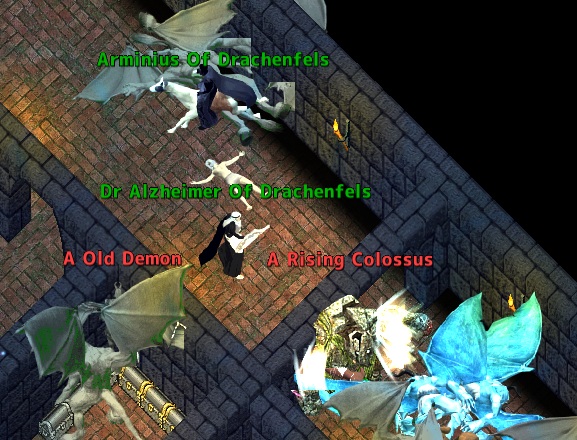 After going trough ,it must have been hundreds of demons, professor Grimm came running out of the crack of the netherworld.
He yelled for help and that they where chasing him.
He told us to hold them up and that the Dark Prince and his knights where arriving soon!
Grimm told us it was a horrible place where he was and that he was happy to be out of the place.
But then more old demons came out of the crack and several demon knights came to assist them.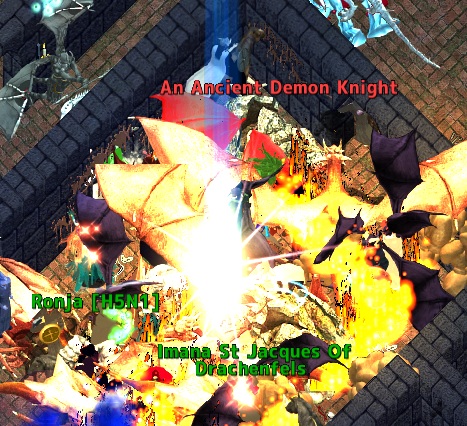 It must be one of the hardest battles we have been in.
Its not easy to fight in these narrows rooms!
At times it was looking that the ice dungeon was on fire!
And then the Daemon Prince and his general came out of the gate.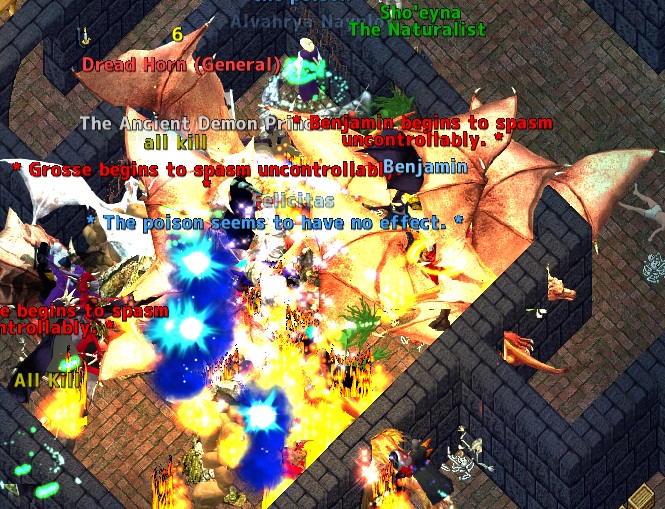 But Elesil was right,she could count on us!
These are the bravest and best warriors of Sosaria!
No prince and his followers are too strong for us to defeat!
After it calmed down the professor told he was happy to be back home.
But….. Where was Elesil?
She should have been back by now!
The professor will send a assistant to look for her.
The professor was wrecked , he needed some rest to recuperate.
But he assured use that we will hear from him again!
New Frarc, Drachenfels News reporter.