Pirates!
Elesil was able to locate another brigand band, she ask us to meet her in the throne room of Britain.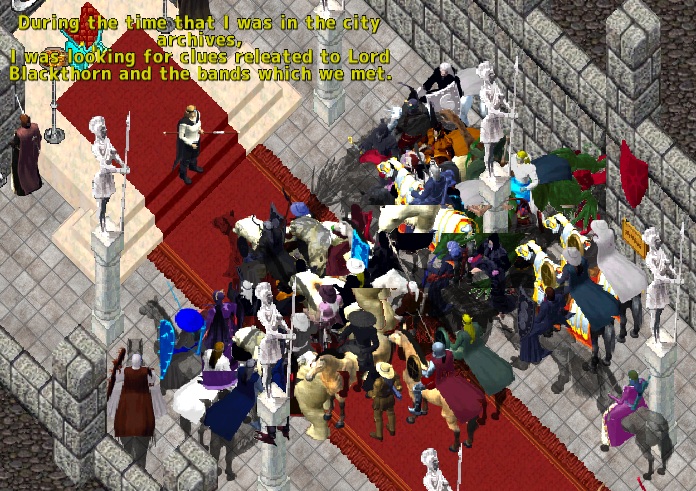 After she cleaned up the skull candle from the wax , she was able to decode the runes.
The runes gave a hint to an old pirate band.
Elesil had found some information about them in the city archives.
The pirates had disappeared after getting there hands on some cursed treasure.
The last knowing where about was in Buccaneer's Den.
So Elesil suggested to go to Buccaneer's Den and search the town for some hints.
With some luck we would find where the pirate band is.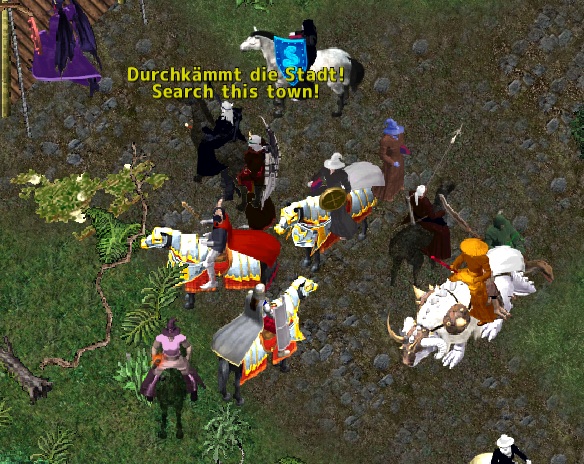 Everyone spread around the town to search for some clues.
It took not to long before some people discovered a book in a back room of a inn.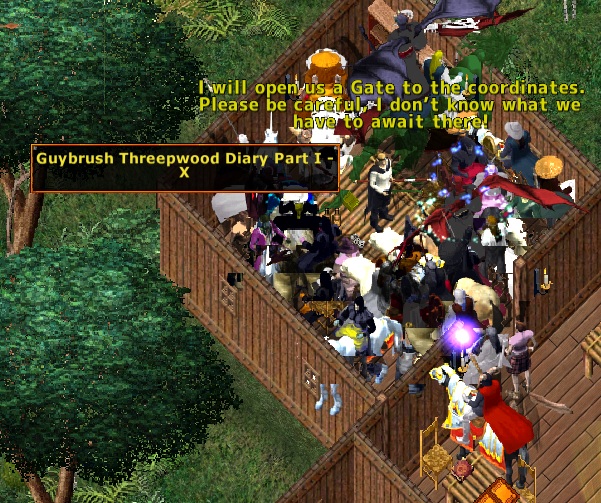 In the diary of the book there was a secret place revealed.
Maybe that was the place where the pirate band was hiding.
Elesil took a close look to the coordinates and knew she could open a gate to the place.
She did warn us to be careful because we had no idea what was waiting for us at the other side.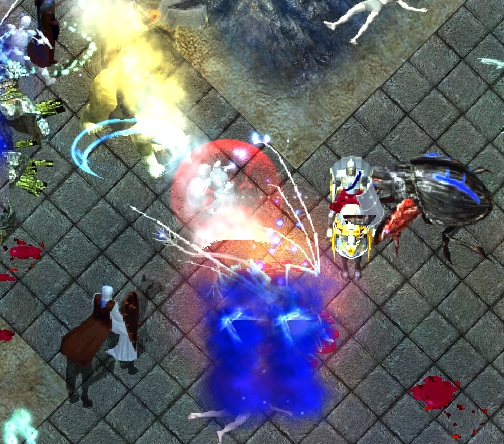 Several undead pirates and skeletal dragons attacked us in the room we arrived.
Good thing we where with many people and came prepared for battle.
Thanks to wonderful team work we where able to clear the first room.
We noticed a pile of gold in a part of the room.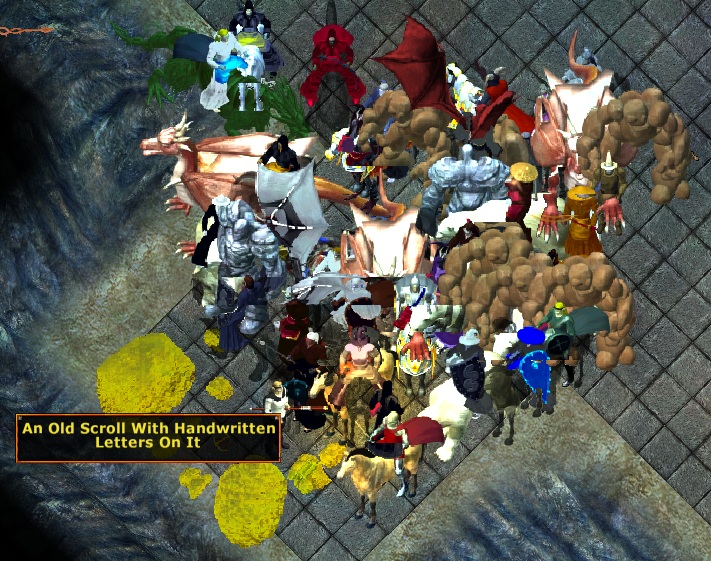 Elesil told us not to touch the cursed pile of gold.
We had no idea what could happen if we did.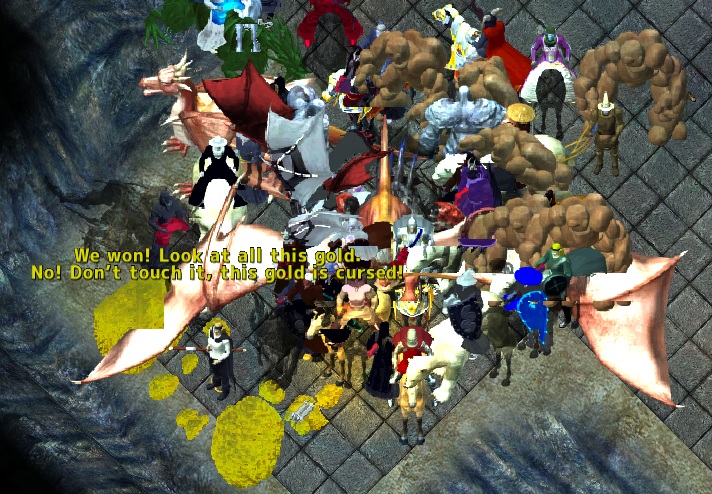 There was a secret passage near the gold.
To open the passage we had to use the secret password.
Maybe the name of the leader of the pirate band would be good.
"Guybrush Threepwood"
A gate opened into a new room.
But when we arrived we had to deal with more undead pirates and skeletal dragons.
The room was very tight and it was very difficult to fight against the many undead monsters.
And if that was not enough Captain Guybrush Threepwood himself appeared to fight against us.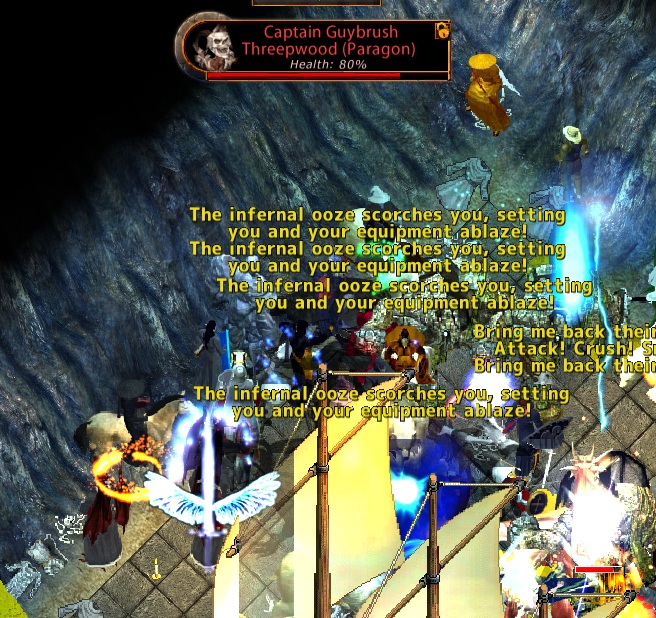 He was determined to protect his cursed treasure.
It was a long and hard battle against the captain but eventually he had to fall against all these heroes!
Elesil took a close look to the corpse and found another piece of the stolen Lord Blackthorn's armor.
We are getting closer to get all the pieces back but there was still some work to do.
We all did deserve some rest after a long hard battle.
Elesil will call on us again when she knows more and also thanked the defenders of Drachental for defending the town.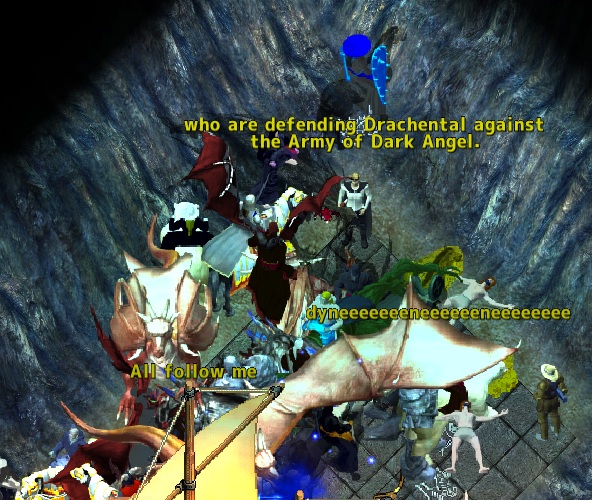 Elesil did say we had to say vigilant in Drachental, even when it seems more quiet the last days she doubts that the fight is over.
And if i don't have enough on my mind i noticed a break-in in the storage room of the watchtower when i returned home.
It was strange that someone would try to steal something from the storage room cause most items inside it is old junk and trinkets.
After some inspection of the storage room i found out that only one thing was missing.
Its nothing more then a worthless grey crystal that Buzzz found several years ago in a chest in the daemon temple on fire island.
Not sure why anyone want this crystal,it had no noticeable magical powers.
I need to talk to my brother to raise the security in the watchtower.
New Frarc, Drachenfels News reporter.