Happy Holidays From EM Borbarad!
Reports reached me of some strange voices coming out of the big Christmas tree at the stables in Luna.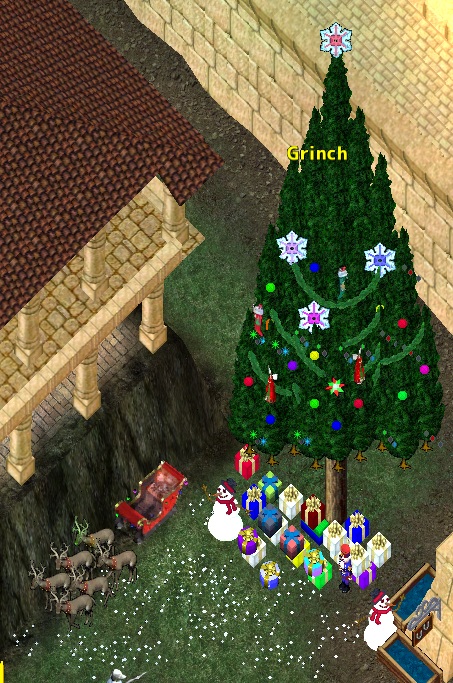 In my curiosity i traveled to Luna.
When i reached the tree i heard the little green man inside the tree talking to himself.
Grinch:
" Christmas… Pff, don't make me laugh!!
Pff…Merry Christmas…
But this Christmas will not that happy!
Hihihi
Because nobody knows where it is…The Gift…
My Brother knows where to go…
That he feels so comfortable there at the big tree in Yew…
*shakes his head*
Hehe funny, the tree has the same name as the city."
I was not sure what was going on but I had to find this little green fellow his brother.
Of course its not a easy task to find the right Yew tree in Yew!
It took some time but eventually i found a strange red leave near one of the Yew trees and i head some movement coming from inside the tree.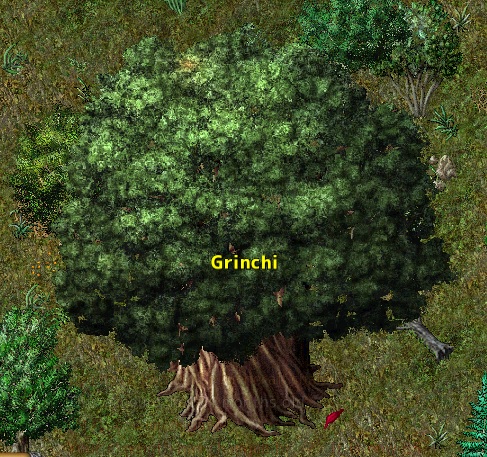 When i came closer to the tree i said hello.
"Uh, how did you find me? Um, Merry Christmas!?" said the little man.
"Merry Christmas to you too" I replied.
"Yes I like it.. a wonderful celebration… shhh do not say that to my brother!"
"Do you know anything about the gift?" I asked.
"I don't have them, but I know where to go!"
I asked where i should go for the gift.
"Well to my relative who has as well such a beautiful tree!"
I asked him where his relative tree was.
"His tree stands, close to a dungeon full of undead!"
"What Dungeon?" I asked.
"Yes, you call the dungeon wrum,wrom…well or something like that…"
To me that only could mean his relative was near the big tree at Dungeon Wrong.
And there i found Grinchum.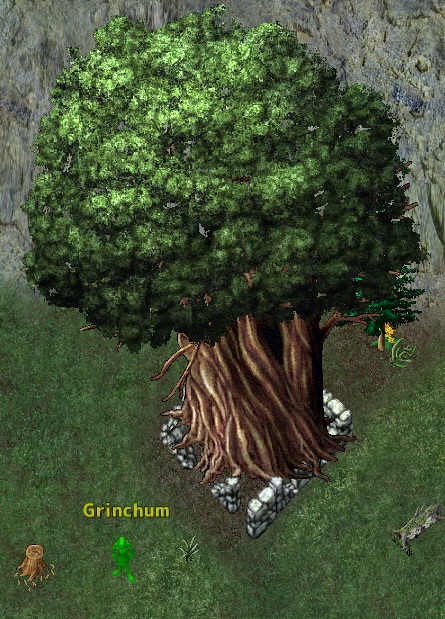 When i said hello to Grinchum he was not really friendly.
"Who Disturbs? I do not buy anything!"
I ask straight away where the gifts where.
"Why does everyone ask me for gifts? Asks the fairy!" he snarled at me.
"Where is the fairy!?" I replied without trying to loose my patience.
"Grrr! Over there south east of Papua! There the fairy has spread!"
I had no time to loose and and headed to Papua.
South east of Papua? it was still a lot of ground to cover to find this fairy.
I was not the only one looking for this fairy .
We ran trough jungles and swamps…. it seemed hopeless.
I even reached the Arena on the far east side.
Maybe i went to far.. but then my eye caught something strange in the distance to the north… I must say… it was a very strange looking fairy!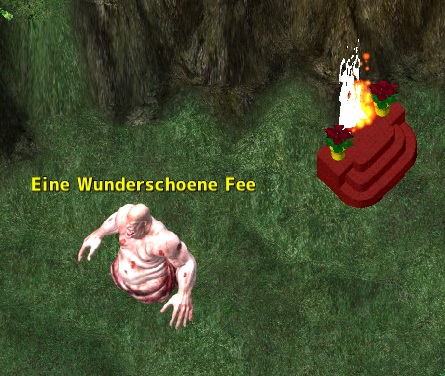 Behind this "Beautiful fairy" was a strange looking altar.
I friendly said hello to the fairy.
"Oh Hello … hihi…"
Again i asked if he knew where the gifts are.
"Yes you are right here! Step on the shrine behind me to say us what you have to say!"
I looked a bit confused and wondered what i had to say at the shrine.
" Hehe … you fool … Everyone says it currently … Do you want a hint?"
A hint would be handy to get for sure.
"There are two words… The first starts with an M the second with a C "
Of course, how silly of me!
I stepped on the shrine and said:
"Merry Christmas!"
I was magical teleported to a big room full of gifts and Christmas spirit!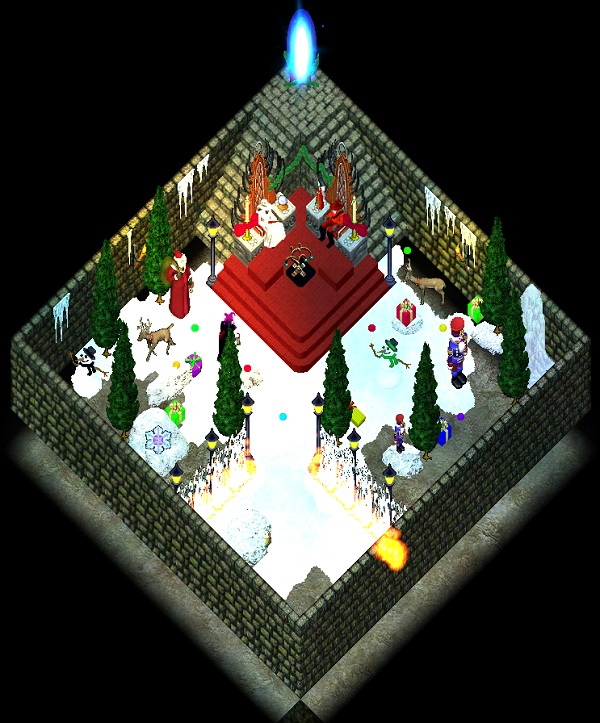 It was Professor Grimm and Santa Claus sitting in their thrones!
"HO HO HO , Merry Christmas Drachenfels!"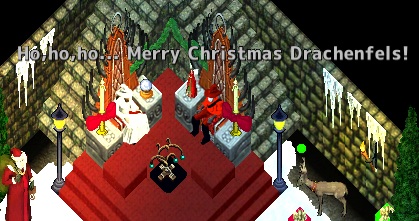 What a wonderful surprise from them!
It took a while to find them but it was worth the effort.
Santa and Grimm gave us a special tree!
And Happy Holidays from Drachenfels to EM Borbarad!