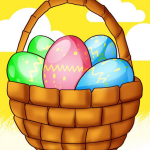 [EM Event]Easter Egg Hunt!
Ziggy has been feverishly collecting and hand painting eggs to cut down on the time the Easter Bunny has to spend doing it. Now Ziggy wants to have a big egg hunt! Come out Friday night and see how many of the Easter Eggs you can find!
————————————————————–
Meet at the West Britain Counselor Hall Friday, April 18 @ 6:30 p.m. Pacific to show off your Eggsellent Egg Hunting Skills!