Holiday Season Contest Voting
Return to: Character and Lifestyle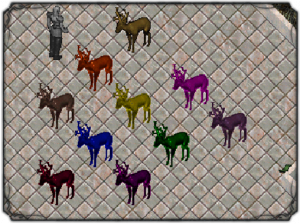 Here is your oportunity for you, as the players, to help pick the winners.
The rewards will be a special hued reindeer.  There are 10 hues and you will be able to pick the hue that best suits your decorations. The top voted design will have their house go down in the history of UO by making it a mini house that will be available next year.
This time you guys are the judges!
Voting closes December 15th, 2012
All entries must have a character name, shard, facet and location
All pictures submitted must be in jpg format
Click the image to see the complete entry
Click the radio button on the left to select your choice,
Scroll to the bottom to submit your vote.
Late Arrivals These entries missed the closing but deserve to be seen
[poll id="3″]
Last modified: February 11, 2013