Kai Schober                                                                                                                                                                  20 Apr 2012 14:24:26 EST
   A new (old) Challenger has come forth!
Last month the Gold Diggers of Legends Shard defeated a surprisingly fierce team Awesome Sauce of Lake Superior. There will be no surprises this time around, however, as the Gold Diggers face a seasoned team of veterans, the Blue Beetles of Catskills. The following is the Challenge laid forth by Catskills, and the response issued by Legends:
My Dearest Helios and Miko,    How are things? It has been some time since we have spoken. How has your shard been, and Miko – did you ever get that boil removed? Adris and I have been quite well on Catskills – busy as always, of course. There always seems to be something, you know?    Anyway, I am writing to you to say "congratulations" on your two victories in the Cross Shard Treasure Hunt Challenge. You and your team truly are Legends. Well, in your own minds, perhaps. But don't get me wrong – I wouldn't begrudge you your hard-earned victories. I mean, as the saying goes, I'd rather be lucky than good, eh?    To the point – if you fancy a bit of competition, I think Catskills would like its' trophy back. What do you say? We EAGERLY await your response.

Sincerely,

Barnaby, Adris, and the Blue Beetles of Catskills
Appreciative of the concern for Miko, the Legends EMs responded promptly: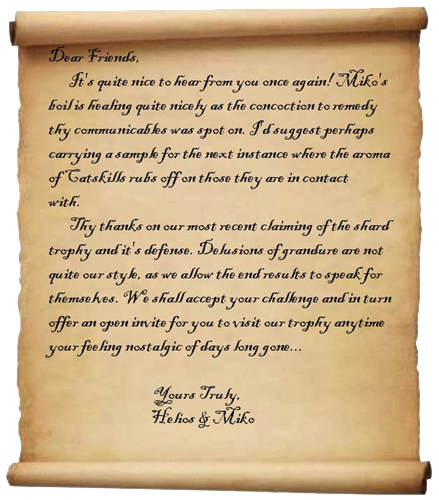 It will be interesting to see if such civility will stand when the competition between these two proud teams heats up. The Gold Diggers are looking to become the first team to win three Challenges in a row, but the Blue Beetles (former two-time champions themselves) should prove a difficult opponent. As if this wasn't enough to provide drama to the match, EM Sangria has promised a surprise for this Challenge – something special to mark the occasion of two veteran teams meeting.
Interested in seeing how this all plays out? Come to the Chessboard in Nujel'm and watch Catskills take on Legends in the Cross Shard Treasure Hunt Challenge!
---
Date: Sunday, April 22nd
Time: 9pm EST
 Place: Nujel'm Chessboard, Test Center
 Shard Spectators are encouraged to come and cheer on their favorite team!
Gates will be provided from the New Haven bank prior to and during the event.