The citizens of Catskills were treated to an event that has become very rare
in our fair land.
 On Sunday January 11th, a wedding was held in Minoc near the town hall..
 King Blackthorn himself officiated the ceremony as Inkboy the Wild
and Eramis the Archer exchanged vows in the presence of the Lords and
Ladies of Sosaria.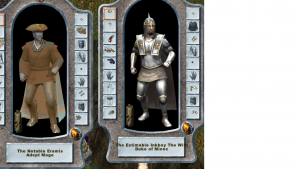 The event had a festive air, and formal attire was requested by the wedding
party. It was easy to see that people were only too happy to dress up…
as occasions to do so are rare these days.
 
 After the lovely ceremony I mingled with the crowd and got some pictures
of some of the more resplendent of the finery being displayed.
  All in all it was a splendid affair to chase off even the most persistent
wintertime doldrums. Lets all hope that as our Catskills population continues
to grow, we'll see more of these happy celebrations.